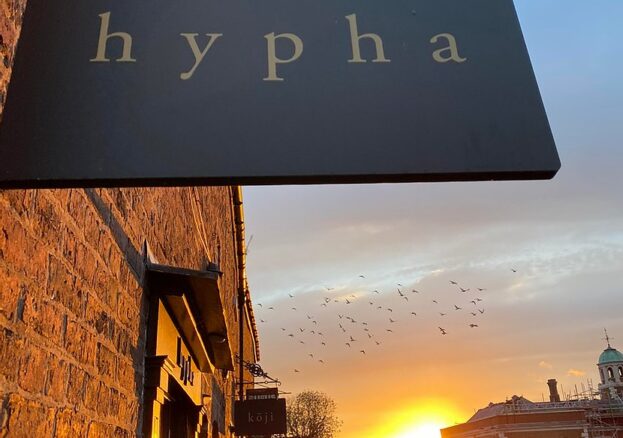 Sustainability is high on everybody's agenda right now and Chester's Hypha restaurant is leading the field in the UK for delicious and exciting plant-based food. Founded by Nicholas Friar in 2019, Hypha was Chester's first plant-based and sustainable restaurant and has earned high praise with eco-conscious foodies from Liverpool, Manchester and London.
Nick works closely with growers and foragers to minimise the carbon footprint and source local ingredients such as Chester-grown garlic, edible flowers and cold pressed rapeseed oil, as well as sea vegetables from Wirral, which are used to make vegan 'fish' sauce.
He's passionate without being preachy and wants to show his restaurant guests what you can do with a different mindset. Hypha is a small place with big ideas – their mission is to use a produce-focused approach with sustainable systems to achieve a zero waste goal. Break that down and what you get is incredible food that doesn't cost the earth.
To make the best of the seasonal produce both lunch and dinner are served as set menus, which is brilliant because you get to try lots of different dishes without the decision making.
Presentation is beautiful and the staff are very friendly, guiding you through the different courses, from fairly simple plant-based alternatives like Hypha sourdough, parsley root tortellini and apple tarte tatin with Woodruff ice cream, to bold creations like 'Brassica', cauliflower velouté, variegated kale and sunchoke (a big knobby vegetable that looks like ginger but tastes a bit like a potato.) There's also the option of an additional wine pairing or a soft drinks flight, which both add the feel of a rather special occasion.
The restaurant itself has a really lovely atmosphere, with plenty of hanging plants, table plants, ceiling plants and pictures of… plants. There is lots of reclaimed wood everywhere and the vibe is actually quite Scandi, a region famed for its green thinking and eco-pioneers.
Perfect for vegans, super-food heroes and gastronomic adventurers, this is the future of food and a journey you really don't want to miss out on.