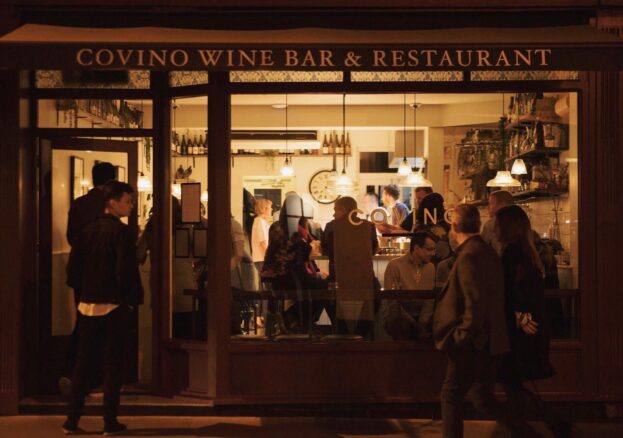 Chester has raised the bar for wine lovers in recent years and Covino has become a firm favourite with the city's oenophiles thanks to an incredible wine selection, laid back atmosphere and fabulous selection of food.
Owner Chris Laidler started out as a wine merchant, supplying some of the city's top restaurants with organic and natural wines from all over the world. The natural progression was for Chris to get his own place and Covino was born on Northgate Street, slap bang in the cultural heart of Chester.
Covino boasts an impressive selection of over 130 different wines from around the world, ranging from the classics, all the way through to the more left field. Drop in for a glass or bottle of wine and grab a perch at the bar for the best seat in the house, where you can watch the chefs in the kitchen working their magic. Bar snacks include juicy gordal olives, salted catalan almonds, ortiz sardines and beetroot ham. Wait, what? Beetroot ham? Yep, as well as King Peter ham, they do a veggie version too. Nice.
Once you've got cosy, you probably won't want to leave. Small plates here have a focus on simple ingredients with big flavours, perfect for a light lunch or full-on dinner. The menu changes regularly with the seasons but you'll often find the likes of artichokes with ricotta and salsa verde, cuttlefish black risotto with cavolo nero, or pork schnitzel with sauerkraut.
Desserts are just as heavenly and they have some interesting cheeses that you might not have stumbled across before, including Rove des Garrigues, a fresh and chalky goat cheese from Southwest France, which matches wonderfully with a glass of rosé. There's also a private dining room tucked away in the cellar and throughout the year Covino hosts seasonal Supper Clubs and taster menus with accompanying wine flights.
There are plenty of places to buy a bottle of wine, but why go for plonk when you can have a bottle of Brunello di Montalcino with some finely sliced King Peter ham? Covino is more than just a wine bar; they want you to buy better and live better. We'll raise a glass to that.