The Kitchen at Storyhouse Chester
Ian Jones, Food and Drink Editor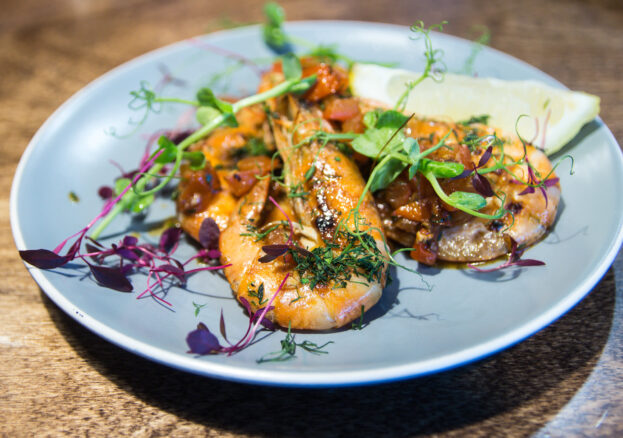 The Kitchen at Storyhouse provides a wonderful respite from the Chester crowds, peaceful and relaxed, with a dining area that opens onto a roomy reading space and an atmosphere that blends laid back charm and upbeat excitement.The menu changes for the seasons but dishes are 'inspired by the Levant', that large area in the Eastern Mediterranean, although it's easier to describe it as Lebanese tapas. You can choose from half a dozen sections, including salads, meat, seafood, vegetables and so on.
Appetisers include plump olives, lightly oiled and topped with springtime herbs. The Aleppo pickles are an altogether more dazzling option, brightly-coloured chunks of turnip, cauliflower and beetroot, crisp to the bite with a delicious eye-popping tartness. The accompanying chili peppers are nicely marinated, full of garlicky aromas and light on heat.
Dolma is a Mediterranean classic – stuffed vine leaves, here containing firm slabs of feta cheese, on a couple of thinly-sliced sections of orange scattered with mint leaves. The vine leaves are fried and crispy, and combined with the orange and mint make for a truly spectacular mouthful. This dish is almost worth a visit on its own.
Mujaddara is a bowl of rice and cooked Lebanese lentils, garnished with sautéed onions. It might sound simple but it's packed with deeply satisfying flavours and pairs well with practically every other plate on the menu. The Harissa pork sausage comes highly recommended by our well-informed waitress. She's not wrong. The sausage meat is fantastic – light on fat and oil, but packed with complex North African flavours – on a bed of hummus-style crushed butter beans, mixed with coriander and parsley.
For dessert, chocolate, coffee and cardamom torte is an instant hit, with a well-portioned serving of cream and blueberries. As is the baklava, a well-made swirl of honeyed filo pastry with walnuts and pistachios. Orange blossom terrine is a light and creamy slice, coated with honey and dotted with berries – a fine way to round off such a fascinating meal.
There's much to recommend about The Kitchen at Storyhouse, not only to locals but also to residents of nearby cities such as Liverpool and Manchester looking to sample some of the most accomplished dishes based on Greek, Turkish, Libyan and Lebanese cuisine.