Chester Cathedral
Vicky Andrews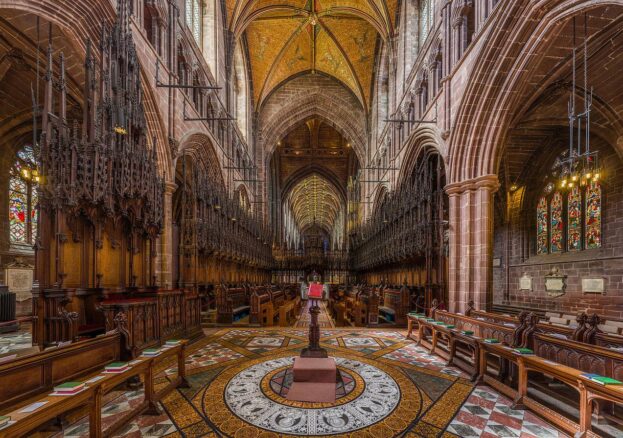 Chester Cathedral has moved with the times to become a spiritual and cultural hub in the city, hosting a packed programme of events throughout the year in a truly unique setting.
A visit to Chester Cathedral is a snapshot through the centuries of old Deva where you can follow in the footsteps of Benedictine monks, Roman soldiers and even Georgian gentry. Don't forget to look up – there's a hidden gem round every corner, from the vaulted ceiling of the Lady Chapel to grimacing gargoyles peeking out of window arches and walls.
The story of the dissolution of the monasteries, when Henry VII transferred the building to the Diocese of Chester for a cathedral, is told in the glass of the Chapter House windows. The most striking architecture reflects the period when the Romanesque look went out of fashion in favour of Gothic height and light, with ribbed ceilings and pointed arches. The guided Tower Tour is a brilliant way to learn more about the cathedral's history and get a panoramic view of Cheshire, well worth the 216 steps up to the top.
It's also worth seeking out some of the modern art here, including the late Ros Grimshaw's Millennium Window, a dramatic stained-glass work in the west wall of the refectory which shows God as the creator, infused with personal imagery of the artist's struggle with Parkinson's disease. A focal point of the cloister garden is the permanent sculpture Water of Life, an intimate and touching piece by Stephen Broadbent who also created the Celebration of Chester sculpture just over the road outside Chester Town Hall.
Chester Cathedral is many things to many people, a beloved place of worship that also hosts concerts, exhibitions and family events, including the hugely popular Christmas Tree Festival. Highlights include the Moonlight Flicks series of outdoor films curated by Storyhouse, and the cathedral's Chapter House recently hosted a powerful modern slavery exhibition by Syrian artist, Sara Shamma.
The cathedral trust is keen to promote contemporary arts and 2020 also saw the launch of the first Young Poet competition, overseen by Poet in Residence, Julia McGuinness.