Outspoken at Central Library
Kristy Stott, Theatre Editor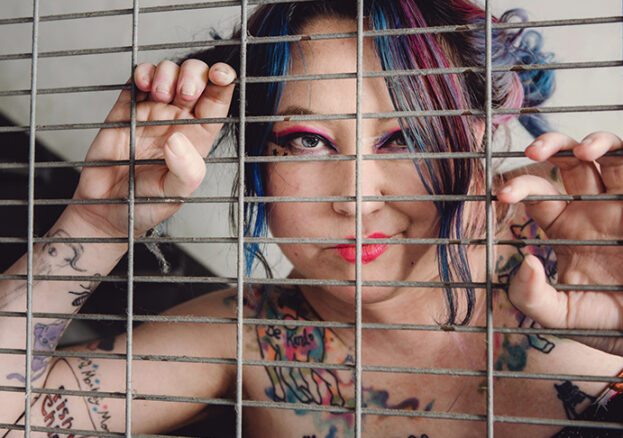 This year's Queer Contact presents Outspoken – featuring an all-female line-up for a night of spoken word, poetry and prose – exploring life, love and Queer identity.
Outspoken is produced by Manchester's Contact Theatre, which is currently closed due to an exciting redevelopment project. Pleasingly, the evening will be held in the apt and awesome surroundings of Central Library.
The night will be hosted by Afshan D'souza-Lodhi, the event (supported by Superbia by Manchester Pride, Manchester Libraries and Manchester Metropolitan University) will feature readings from Seni Seneviratne, Mandla Rae and Louise Wallwein, plus the airing of new work from Superbia's Manchester Chapbook project.
The award-winning playwright, performer and poet Jackie Hagan will also be stepping up to the mic. With her direct, honest and optimistic style – Hagan has a real flair for delivering verse with drama and glittering humour. Following her recent success at Manchester's Royal Exchange with Cosmic Scallies and her striking autobiographical solo show Some People Have Too Many Legs, this is a superb chance to experience Hagan's luminous performance style. Describing herself as "a working class, queer amputee", Jackie received a Jerwood Compton Poetry Fellowship in June 2017 and her latest work, This is Not a Safe Space will begin touring in spring 2018.
The night also sees the first sharing of new work from The Superbia Chapbook Project. The initiative showcases new and emerging talent from Greater Manchester and offers young, promising writers ongoing mentoring and a place on a development scheme. This gives you the opportunity to see the next generation of LGBTQ brilliant young writers first.
Outspoken promises to be an evening of striking performances and storytelling – enjoyable and inspiring, and most importantly holding the power to educate.