Manchester Art Gallery Cafe
Chris Patrick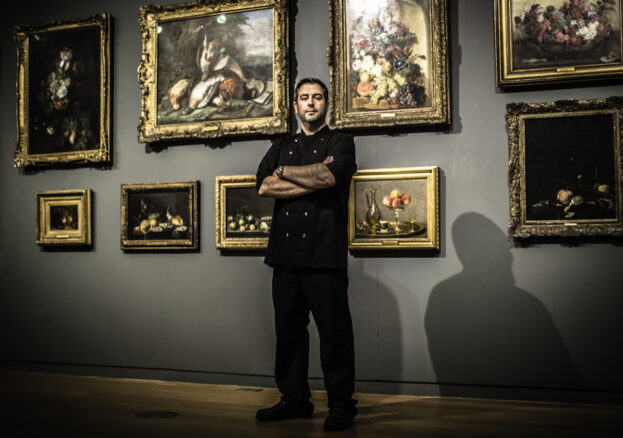 Bright, light, surrounded by art. Such is my life, but this is also a good description of Manchester Art Gallery Cafe, with acclaimed chef Matthew Taylor at the helm. Gallery cafes can be 'functional' – somewhere to collapse after looking at important things – but this is a step further on.
Something special is happening here
The decor is set up to create a nice warm pale green and bare wood effect, with most of the seating looking out over the town hall square. And also, in my case, looking out over some other food reviewers. They know who they are. And they're also a sign that something special is happening here.
There is a whole range of special drinks – I went for an Elderflower Pressé but there are also coffees and many infusions from Canton Tea. There is also a great children's menu for those so burdened (to connect with the family activities on offer in the gallery itself). They even provide a range of seating options: armchairs, tall tables, short tables, etc.
A refreshing wake-up dish for the weary aesthete
I went for a home-cured mackerel starter and chicken schnitzel main. Salads, sandwiches and toasties are also available in abundance.
The mackerel was beautiful and rich, the curing had coaxed out layers of taste, with the pickles and capers adding a deliciously acid mustardy overtone. The hung yoghurt had solid texture and a mildness that blended well with the pickles and the toasted sourdough stood up to the bite, a solid interesting base to pile the other stuff on. This was a refreshing wake-up dish for the weary aesthete.
What we have here is a spectacular day out
The schnitzel was absolutely on point, firm and yet not dry, real vivid chicken. A herby aroma came off it as it was carried to my table. This dish was full of surfaces, the crispy heritage potatoes, warm soft and crunchy, and the breadcrumbed chicken. A really satisfying dish and yet not stuffing. To make it all the better it came with capers, tomatoes and olives and some tangy and sweet cabbage.
We finished with a selection of cheeses and bread, which were a perfect coda to an expertly arranged meal. Taking the gallery as a whole and adding in this cafe, what we have here is a spectacular day out.