Manchester Town Hall
Andrew Anderson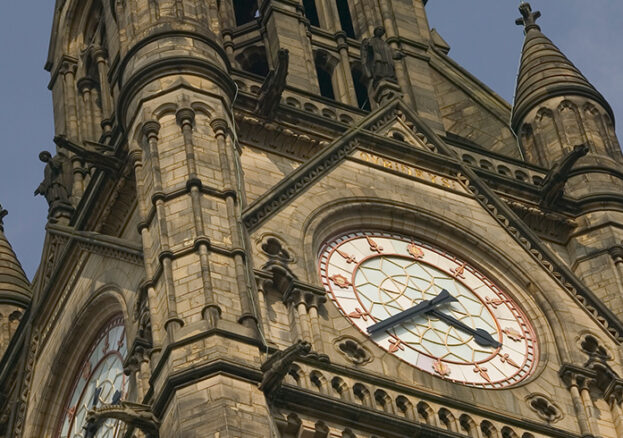 Re-opening in 2024, Manchester Town Hall, the Grade I-listed £325m restoration project is nearing completion.
Designed by Alfred Waterhouse – who also designed London's Natural History Museum (and Manchester Museum) – the Town Hall was completed in 1877 at a cost estimated to be the equivalent of £55m today. A neo-Gothic masterpiece (though Waterhouse himself rejected it as Gothic; he thought it an entirely modern style), the lower floors of the triangular building are full of ornate carvings, as well as the famous Ford Madox Brown murals. The upper floors are, however, plainer, having been built with civic function in mind; these rooms and hallways are still used for administration, giving the place a feeling of being a living part of Manchester rather than just a dusty relic.
The Town Hall's instantly recognisable clock tower stands 280ft tall over Manchester, and its four dials have kept time for our city since New Year's Day 1879. An inscription on the three sides that are visible from Albert Square reads "Teach us to number our Days." Behind those dials, towards the top of a 173-step staircase, the clock mechanism is an exceptional piece of engineering. Made by Gillet and Bland, experts say it would have been "the Rolls Royce of clocks" in its day, and it remains one of the most important time-pieces in the UK.
The restoration project, now years' long, is being carried out by a team of experts from Purcell Architects and Lendlease. The work includes repairing the building's exterior, replacing its windows, and restoring its interior. This will benefit the people of Manchester in many ways — preserving the city's heritage, creating jobs, and attracting visitors, both local and international.