Red's True Barbecue
Ian Jones, Food and Drink Editor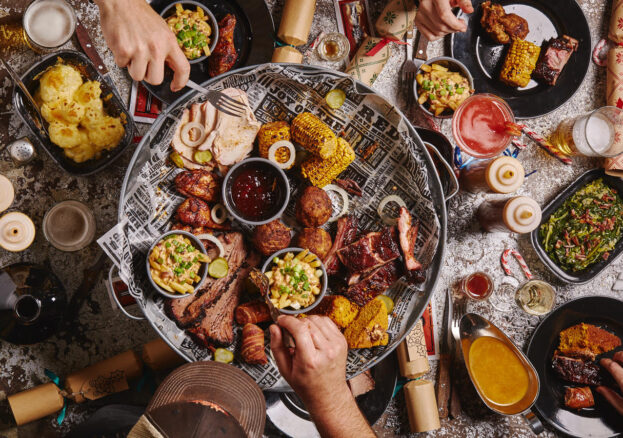 Red's True Barbeque must be doing something right. This longstanding restaurant has been a stalwart of Manchester's dining scene for many years now, in one of the swankiest areas of town. Despite being all about sticky BBQ food, the venue itself has a classy feel to it, blending a fun night out with belly-filling food.
A fun night out with belly-filling food
And that's precisely what you can expect this Christmas. We popped in for the launch of the festive menu and were treated to a monster platter of food, consisting of – take a deep breath – tender pork ribs, chunky cheese and jalapeno sausages, impossibly soft turkey breast meat, fiery hot chicken wings (billed as 'unholy XXXL' so you know they mean business), a smoked chicken with the most delicious crispy skin imaginable, plus some smokey beans.
That's not even mentioning the sides: mash, gravy, onion rings, fries and festive cornbread. Long story short, you're not going to leave here hungry. But at the same time, it isn't a pig-out all-you-can-eat kind of place either. The brains in charge of the food have paced it well – there's certainly enough food on offer to satisfy everyone here, but you won't end up clutching your stomach in pain afterwards either.
Interestingly, there's also a veggie option, known as the meat-free platter. Here you get pulled jackfruit, meat-free buffalo wings, garlic chilli greens, crispy onions, plus all the aforementioned sides. It's a smart move, considering the increasing popularity of non-meat option, meaning all are welcome at Red's.
Two whole hours of guzzling will cost 5p short of £60
It's all available for a very reasonable price point. As well as a platter of food you get bottomless drinks, perfect for those Christmas nights out with friends, family or workmates. The damage? 90 minutes will cost you £48.95, while two whole hours of guzzling will cost 5p short of £60. Considering the quality of the food, the primo location and the fact that everyone should try Red's pork ribs at least once this Christmas, that's a darn good deal, as our BBQ-loving cousins across the Atlantic might say.