The Sparrow
Ian Jones, Food and Drink Editor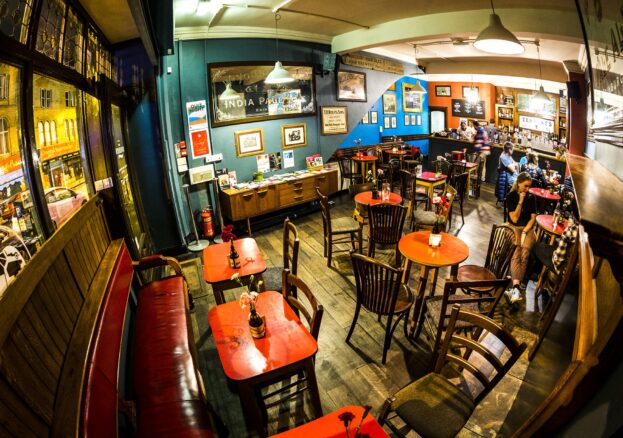 In the style of a European Bier Café, The Sparrow is one of the North Parade's main draws, featuring quality beer, music, and art. The Sparrow has been a destination since 2011, when it set up in an abandoned shop venue, with the aim of bringing a Belgian or Dutch style establishment to the people of Bradford. The Sparrow was one of the first pubs of its kind on North Parade, now famous for interesting food and beer. It was recognised by CAMRA, gaining Pub of the Year in 2012 and appearing in the Good Beer Guide in 2013.
The booze enthusiast will find local real ales, pilsners imported from central and eastern Europe, and real ciders. Then there are specialist craft ales. At least 16 beers are available in total, and standout regulars include Kirkstall's Black Band Porter and Dissolution IPA.
The Sparrow is one of the North Parade's main draws, featuring quality beer, music, and art
You can order in pizzas from a nearby restaurant, and platters and pies are available from the bar. Aside from the upstairs bar, there's a basement venue below, with regular DJ sessions and live gigs from the likes of the Sisterhood Music Collective and Skiffle Inc.
The Sparrow is run by the nearby Kirkstall Brewery, in concert with original owners and creators Marko Husak (of Bundobust Fame) and Les Hall. All parties involved here are experts, and the Kirkstall Brewery has expanded the range of beers available without affecting the independent, laid-back style of the place.
The pub is located five minutes' walk from Bradford Forster Square station – for those guests who may be intent on becoming slightly over the limit and like to travel responsibly. Nearby you'll find the Kirkgate and Oastler shopping centres if you're looking to incorporate some quality pub time into a shopping trip. And of course, you're on the North Parade, with plenty more pubs and bars to sample.