The Record Cafe
Carmel Smickersgill, Tours & Activities Editor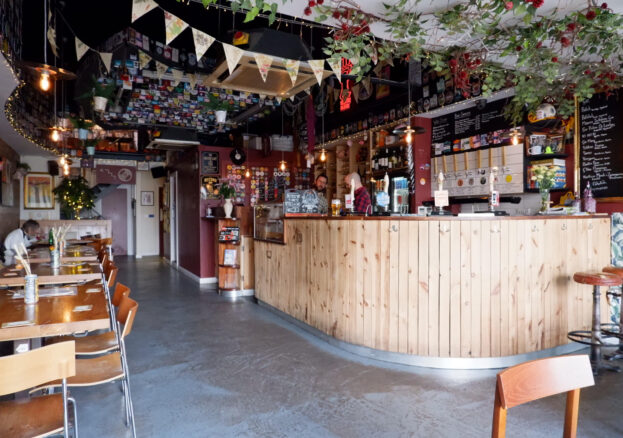 Among the independent pubs, bars and shops on North Parade is an establishment which combines three pillars of modern luxury in a fine balance of hipster heaven, 'cause lets face it, everyone's a little bit hipster. The Record Cafe is the only place in Bradford where you will find rare and interesting vinyl, a vast selection of artisanal beers and top notch charcuterie under one roof.
there's a reason why this trilogy of enjoyment goes down so well
Starting at the top, you'll find their mezzanine level record shop. With new releases landing every Friday and a whole host of must-own albums, you can easily lose an afternoon among the shelves. There is a refreshing lack of constraint when it comes to genre and style, you can find new releases from folk, electronic, alternative and older artists that have only aged like fine wines. No record is on sale as shelf filler. Each one seems to be purposefully chosen to give you a well rounded collection. The entire catalogue is also available to order online, so if your based further afield you can still make the most of the Record Cafe's unique collection.
A level down you may start to smell the intoxicating lure of speciality meats and cheeses. Enjoy a sharing platter of Montenegra Iberico Cebo Jamon, acorn-fed Iberian hand stuffed sausages, Spanish mussels, anchovies and sardines as well as a selection of intense Spanish cheeses. All of their food is imported from producers that are as passionate about good eating as the cafe. Check out their menu to realise the true extent of the decadence on sale, we've barely scratched the surface here.
If the shop and charcuterie weren't enough to tempt you, the Record Cafe has also been named CAMRA pub of the year 2017, 2019 and 2020, and it's easy to see why. Their arsenal of cask, keg and fridge provide a range of drinkable delights you'd struggle to find elsewhere. As well as featuring local breweries, the cafe goes out of their way to source new and interesting beers from further afield independents. Expect to see the best of Northern and European brewing.
Although this palace of beats, meats and beers may seem like a patchwork of ideas, there's a reason why this trilogy of enjoyment goes down so well.