Fletcher Luxury Apartments
Carmel Smickersgill, Tours & Activities Editor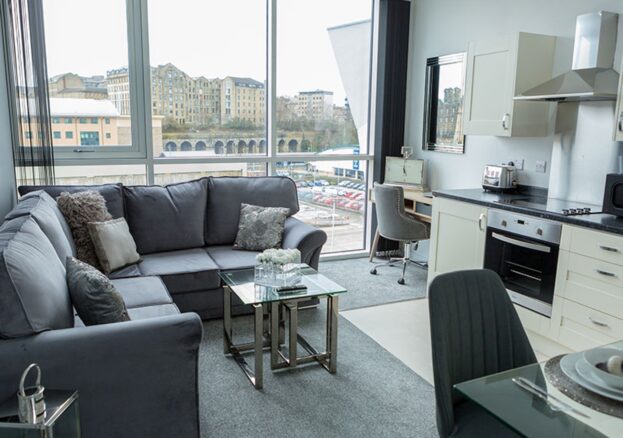 Over the past ten years, companies such as AirBnB and Tripadvisor have given us a taste for accommodation becoming a living space rather than just a bed for the night. This may be why we now see more Northern cities embracing the trend and welcoming aparthotels, luxury short stay apartments and flats. Fletcher Luxury Apartments is just one of Bradford's new such options for city centre accommodation, letting you feel at home while you explore the up and coming cultural hub.
Designed to look elegant, whilst providing all the home comforts
Choose from a range of one and two bedroom apartments, each one having been designed to look elegant, whilst providing all the home comforts you would expect from a living space. Whether you're staying in the cosy and efficient studio apartment or living it up in the executive suite, you can kick back with a smart TV and wifi after a hard day sightseeing. Having a dining area also allows you to cook for yourself rather than eating out, giving you more control and choice over your diet.  (Suggest "dining options")
The rooms feel modern, yet personal and heartfelt in their decoration. With small touches such as flowers and patterned cushions, the design feels more like a home than a hotel. All apartments are accessible via lift, with Fletcher Luxury Apartments being very willing to accommodate for other access needs. Each apartment comes with free secure parking and a variety of breakfast options upon request, which can be delivered to your door in the morning.
The residences are located very close to Bradford Forster Square train station and are next to Little Germany. This area of Bradford city centre is renowned for its quirky bars and restaurants serving locally brewed beer as well as more continental offerings. It's currently the up and coming arts district of Bradford and shows no signs of slowing down.