Waterstones Bradford at The Wool Exchange
Carmel Smickersgill, Tours & Activities Editor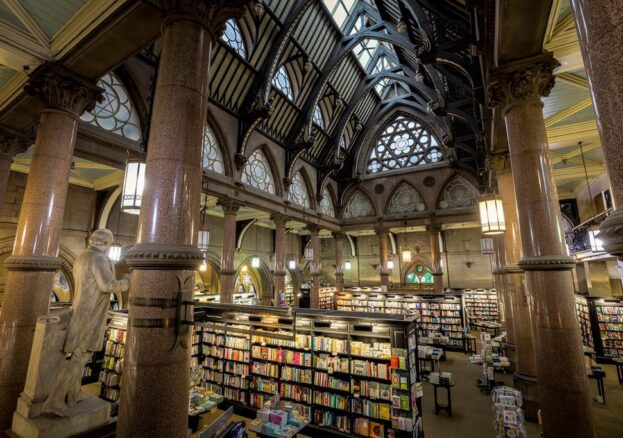 As one of the architectural gems in Bradford's city layout, the Wool Exchange was completed in 1867. Spread over a triangular site, the building has three main storeys and was originally designed to resemble the great Flemish Cloth Halls, but with a Venetian Gothic influence. The building is a monument to the role played by the wool trade in Bradford's industrial rise to prominence. These days, the main hall is home to perhaps one of the most ornate Waterstone's in the country.
a calming and beautiful spot to grab a coffee
The marble columns lining the perimeter of the main hall, which at one time would have been packed out with wool merchants, are now nestled between shelves of fantasy, fact based and thrilling writing. However you can still imagine the noise of the wool merchants trading in the space, their voices bouncing off the exposed wood and up towards the ornate ceiling. In the 19th century trading on the exchange was done by verbal contract only, with each party keeping note of the agreed price, quantity and date of delivery. In the main hall you can still see the statue of Richard Cobden, one of the manufacturers who would have bargained on the floor, before going on to become an MP.
Along the outside of the building you can find statues of textile industry heroes such as Joseph Marie Jacquard, the inventor of the first programmable weaving loom. Joining him are other politicians, explorers and businessmen of the time.
As with all good bookshops, there's no need to wait till you get home to dive into your new purchases. The Wool Exchange cafe, with a balcony that overlooks the entire shop floor and a modern entrance, is a calming and beautiful spot to grab a coffee in Bradford. In addition to the bookshop and cafe the exchange is currently also home to a newsagent, pizza restaurant, panini shop, employment agency and the Exchange Ale House.