Bradford Playhouse
Carmel Smickersgill, Tours & Activities Editor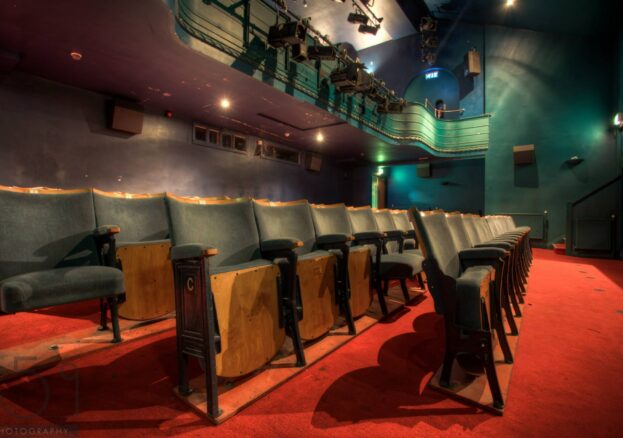 Based in Little Germany, Bradford's enigmatic cultural quarter, Bradford Playhouse is an art deco gem of a theatre bringing the best in community and professional shows to the heart of the city. From their large scale auditorium to the intimate Burnel Rooms, you can be sure to find some of the most varied programming in the North. Having opened as a theatre in 1934 under the direction of playwright J.B. Priestley, the playhouse is a lynch pin connecting the arts and wider community.
every heartfelt monologue feels as genuine and warm as each pantomime dame's first entrance
The Playhouse puts on a mixture of amateur and professional shows with an emphasis on variation and something for all audiences. It isn't uncommon for Bradford Playhouse to host a good old festive pantomime, but this theatre also takes on more gritty material from writers such as Amanda Whittington and Neil Anthony Docking. When a performance space feels this naturally flexible, it allows every heartfelt monologue to feel as genuine and warm as each pantomime dame's first entrance. Behind the scenes, Bradford Playhouse has a team of highly skilled and passionate theatre workers making it all happen.
In line with their programming the Playhouse has a variety of spaces. The main auditorium has a seating capacity of 265 and is perfect for large productions and touring shows. The black box, 70 seat, Studio space has a more intimate feel and is where you can often find more experimental and newly written material. The Burnel Rooms is their slightly more intimate space, where you'll find grass roots live music. As the only mid scale venue in Bradford city centre they offer amateur theatre the chance to put on professional quality productions and launch careers. It's spaces like this that allow local people to compete with Goliaths such as the Alhambra.
The theatre is something the whole community can take pride in as they rely on volunteers to help with larger projects. The community's generosity is rewarded, however, with free shows. If you're interested in getting involved you can find more information on the Bradford Playhouse website.