The Stories Under Our Feet at the Corridor of Light
Shekina Rose, Families Editor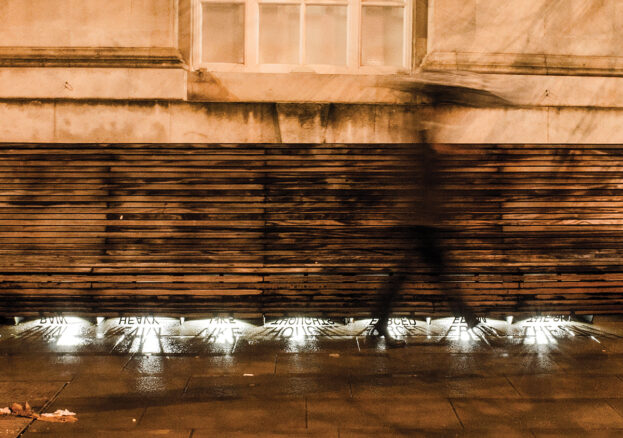 Prepared to be dazzled this October at The Stories Under Our Feet exhibition, part of the illuminating 'Corridor of Light' on the Oxford Road Corridor. The Corridor Of Light presents a glowing series of events and stunning experiences that celebrate language, light and ideas through mesmerising light installations, live entertainment and visual art.
The Stories Beneath Our Feet is a glimmering poetry exhibition installed around the benches outside the Central Library in Manchester, which are often overlooked by passers by. Members of the public are invited to read and enjoy a variety of short, observational poems inspired by the changing seasons and lit up in light, emerging from the pavement beneath the benches.
You may wish to read them as you walk through Manchester City Centre, or perhaps you can sit down, take a break and read the poems as you rest for a moment.
The Stories Beneath Our Feet installation has been created by UK-based light and text artist Elisa Artesero, whose work has also been exhibited at festivals across the UK, including Lumiere Festival in Durham.
Other exhibitions lighting up the Corridor of Light along Oxford Road include Algorave at Hatch, The Fire Garden at HOME, Postcards From The Road at Manchester Poetry Library and Black Gold Arts Festival at Contact Theatre.