The Gruffalo at The Lowry
Shekina Rose, Families Editor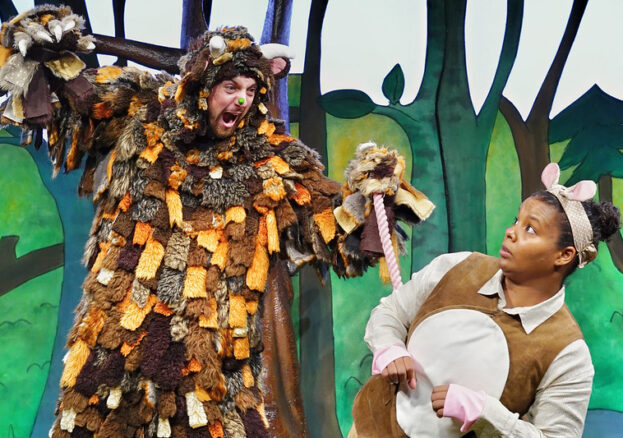 There's no such thing as a Gruffalo… Or is there?! It's time to find out, if you're feeling brave! An exciting adventure awaits you on Saturday 30 July – Wednesday 10 August 2022, as you join little Mouse in the deep dark wood, for Tall Stories' production of The Gruffalo at The Lowry. This is a live, musical performance for the entire family to enjoy, based on the best-selling classic picture book by Julia Donaldson and Axel Scheffler.
Shussssshhhh! All is quiet in the deep, dark wood, and Mouse is hungry for some nut-shaped dinner! On a quest for this delicious crunchy snack, Mouse meets some familiar, predatory characters: the cunning, greedy Fox, the wise old Owl and the sly, slithering Snake. They are all hungry, and they all want to eat Mouse for their tea!
But Mouse has a crafty plan of his own. To scare the Fox, Owl and Snake away, Mouse tells them the terrifying tale of the Gruffalo, with his terrible tusks, and terrible claws, and terrible teeth in his terrible jaws. What Mouse doesn't realise, however, is that the Gruffalo, with all his fearsome and frightful ways, might actually exist… Oh help. Oh no! It's the GRUFFALO!
You guessed it. The Gruffalo is hungry too and he's looking for a Mouse to eat with a slice of bread! Can Mouse outwit and escape the Gruffalo, and finally find the yummy, nutty treat he's been looking for all day?
Expect sensational songs, an enchanting woodland set, brilliant costumes, some of the catchiest rhymes to ever exist, belly laughing guaranteed and of course, roarsome Gruffalo fun in this heartwarming and moving production of The Gruffalo at The Lowry.
The performance is less than an hour-long, which is a perfect length of time for children aged 3 and up and their grown-ups to enjoy together. Book your tickets through the link below.
★★★★★ "Tall Stories' production gives so much more to its audience than any animation ever could… Continues to be the ultimate family favourite." What's On Live
★★★★★ "This play develops Donaldson's words with perfect understanding… This whimsical, imaginative show is pitched at just the right level for three to seven-year-olds, as well as the 'ugly big ones' they have brought along with them… This show is an absolute delight… It is a rare treat to find a show that really is for all the family, but this is one which cannot be commended enough for its spot-on achievements." Scotsman
★★★★ "The Gruffalo is the perfect intro to theatre for kids"  The Londonist