Uswim at Salford Quays
Carmel Smickersgill, Tours & Activities Editor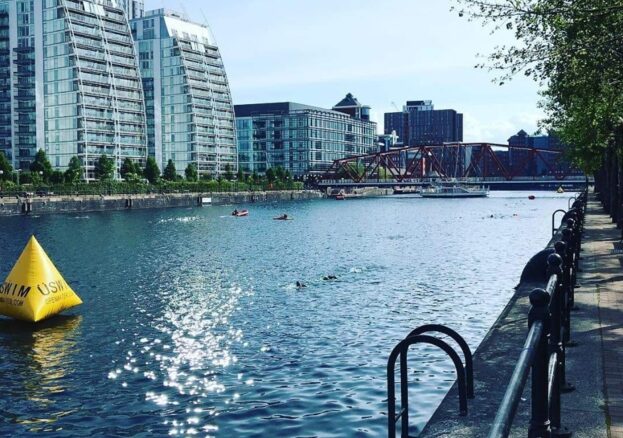 Open Water Swimming is exploding in popularity at the moment, with people trying to find the thrill of submerging themselves in cold water all over the country. For those of us who don't live within a reasonable distance of a lake, tarn or river it can be a real challenge finding urban places to take the plunge. As the summer months hike the water temperatures up and more people take the plunge while the sun's out Uswim are helping people embrace the turquoise waters of Salford Quays.
To know that you're surrounded by water, definitely gets the endorphins going.
Mancunians who don't want to travel far can try open water swimming with Uswim in Dock 9 at Salford Quays. Every Wednesday from 5:30 – 8 pm or Saturday from 8 – 11 am they welcome all levels of swimmers in to the Quays. For first time swimmers, they offer swim coaching sessions where you can get to grips with the temperature change and ensure that you're staying safe while in the water. As well as receiving expert coaching you can hire wetsuits and swimming caps when you're there, so for those who fancy a refreshing chilly dip after work you don't have to be lumbered with equipment for the whole day.
As the temperature increases, open water swimming is a brilliant way to cool off in the summer heat. Although Dock 9 may not offer the natural beauty and serenity that wild swimming might offer it's a different experience and can be thrilling in its own way. To feel dwarfed by the buildings on either side and know you're surrounded by water definitely gets the endorphins going. There aren't many places in the country where you can enjoy a swim within the brutalist structure of an old ship canal. That in itself is quite the experience.
Whether you're a keen swimmer looking for a convenient way to get your cold water fix or a newcomer to the experience, the supportive community of swimmers who go to Uswim will definitely encourage you into the water.
For more wild swimming spots, take a look at our dedicated guide, which features 25 unique locations spanning the North.