Haphazard at Z-arts
Gemma Gibb, Associate Editor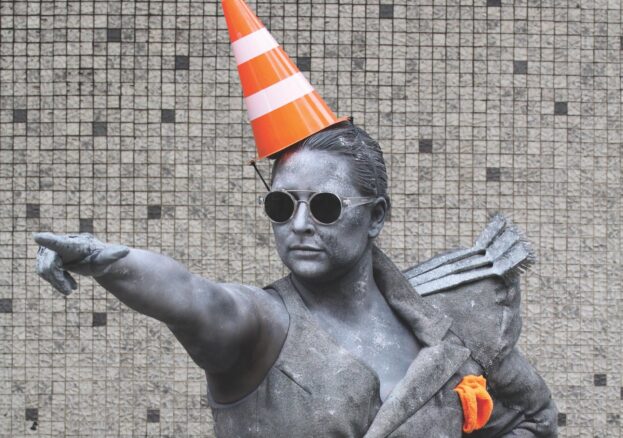 Prepare for something completely out of the ordinary at Haphazard as the glorious Z-arts building is transformed from top to bottom into a curious land of brilliantly bonkers free interactive experiences and performance.
Brought to us by the clever folk at Word of Warning, expect bizarre behaviour all round.
Meet some scarecrows with a conscience in Emily Demetriou and Hector Dyer's The Heat Beneath My Straw Feet and Chrissy Jones' Shadow Girl, an impish super hero on a mission to make the world safer for everyone to be visible.
Take part in some cloud building and make it snow bubbles with the folks from Fun Science. Joe Steven's Flight Club is a game of paper planes with high-flying stakes.
Encounter Rosy Maple, the hardest working moth in Tinseltown. Expect a half-eaten costume and six-legged dance.
Have some kaleidoscopic fun with Lady Helena Vortex and Mx Lucille Power in Balloon-a-rama. Give them your breath and help them tranform into a riot of inflatable colour.
Throw some Bollywood shapes with Monsur Mansoor and pop away any hang-ups you might have with artist Natalie Wardle.
Performance artist Nicola Smith hosts a game of musical statues like no other. If you are feeling fiesty, stage a climate change protest with Powder Keg.
Meet some fantasy animals and create your own in YEAP Association's Creaturistic! A flying chimp with butterfly wings or a peacock-cow? Anything goes.
Days like this of free, top quality experimental arts for families to stretch imaginations of all ages are few and far between so hats off to the creative teams involved. We love that this day showcases the work of some of the most exciting new live artists around and that you can pop in for a brief crazy encounter or for the entire antic-filled afternoon.