Imperial War Museum North (IWM North)
Sara Jaspan, Exhibitions Editor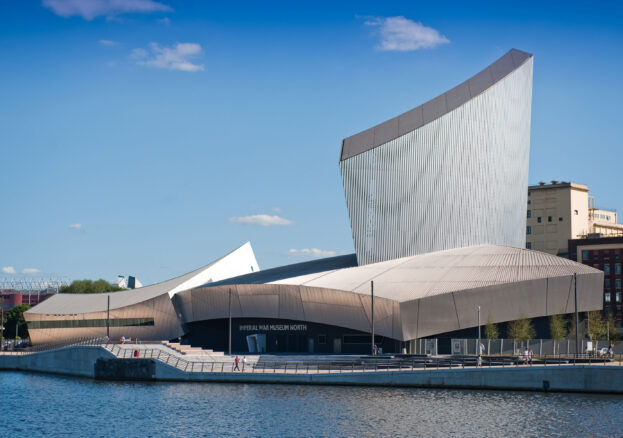 Built on a former bomb site and designed by world-renowned architect Daniel Libeskind to represent a globe shattered by conflict, the sharply jutting structure of IWM North boldly punctuates the Salford Quays waterfront. The striking building is no less impressive inside however, where a significant proportion of the Imperial War Museum national collection is held, presented alongside a dynamic programme of temporary exhibitions, contemporary art and one-off events that explore the many ways in which conflict shapes society.
On permanent display in the main gallery space, a vast collection of over 2,000 objects – from a First World War field gun that fired the opening British round on the Western Front to the twisted rust-ridden steelwork retrieved from the rubble of the World Trade Center in New York – recounts the global history of war over the past 100 years. To accompany this narrative, the museum's award-winning 360-degree cinematic Big Picture Show plays hourly nearby – an immersive surround sound and 360-degree projection with 27-foot-high walls featuring historic film footage and photographs from IWM's vast collection. And Mixing It: The Changing Faces of War Time Britain uses specially recorded oral histories to recount forgotten histories of service personnel and civilians who came to Britain during the Second World War.
Aside from first-hand accounts, perhaps art is the most powerful medium we have to address the unfathomable traumas of war. Since 2010, IWM North has commissioned countless artworks, workshops and live performances as part of its Reactions series, which invites local and international contemporary artists to respond to the themes, architecture and collections of the museum in innovative and challenging ways. Strands of the programme are presented year-round throughout the building. In the temporary exhibition space meanwhile, an ambitious and widely-acclaimed curatorial programme addresses a diverse range of subjects relating to conflict. Some of our favourite previous exhibitions have included Wyndham Lewis: Life, Art, War and Syria: A Conflict Explored.
Greater Manchester is an appropriate location for the northern outpost of the Imperial War Museum. Trafford Park was where vital munitions, tanks and engines were produced to support the First and Second World War effort and was a main target in the Manchester Blitz. When the foundations for the museum were first dug in 2000, shrapnel and an anti-aircraft cartridge shell were found. If at any point you start to feel a little disorientated wondering around the building (designed by the same man behind the equally iconic Jewish Museum in Berlin), don't be alarmed. Libeskind intended it to have this effect in echo of the unsettling nature of war. As you can imagine, a visit to this remarkable venue provides an unforgettable experience for all ages.