The Oast House
Polly Checkland Harding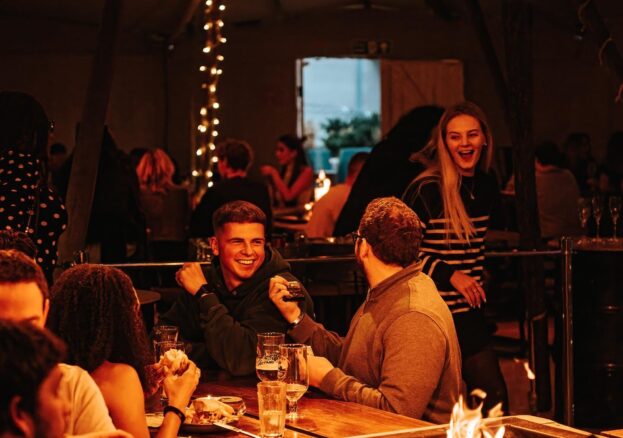 From drying hops to pulling pints, we take a look at Manchester's longest serving pop-up.
The Oast House was never meant to be permanent. Although the structure had to be transported, brick for brick, from Kent to Manchester (indirectly, too; via Ireland) Living Ventures – the crack team behind Australasia and The Alchemist – applied only for temporary planning permission when they first conceived of the endeavour. And when, in October 2011, cranes came to assemble this 16th-century hop kiln in the middle of Spinningfields, you'd have been forgiven for thinking that this was an unbalanced amount of effort for a pop-up pub. Two years later, The Oast House is still there, out of place yet strangely still at home –though whether the effort made on the inside matches the architecture is still in question.
The beer that the Oast House was originally built to produce is still flowing strong, if in a somewhat different form. Inside, while the humulus lupulus flowers traditionally dried on a wood and wire floor under the eaves have long since disappeared, the pub stocks fourteen different lagers, along with a range of wheat and dark beers, blondes, fruit beers and four cask ales in beautiful dark wood barrels. Those overwhelmed for choice can order a "beer slider": three different halves sat on a neatly carved tray (£4). Details like this – and the beautifully illustrated beer chronicle, placed on every table – give an indication of the attention given to the amber brew.
Having made the shift from fleeting to fixture in the city's lexicon, it doesn't look as though The Oast House will be dismantled any time soon. The vernacular architecture, so strikingly displaced, is certainly a sight worth seeing. Ultimately, The Oast House's best asset comes from where its life began: it's all about the beer.