A happening new bôite round the back of Piccadilly Gardens bus station? Kate Feld is surprised by an intoxicating new arrival in an unlikely place.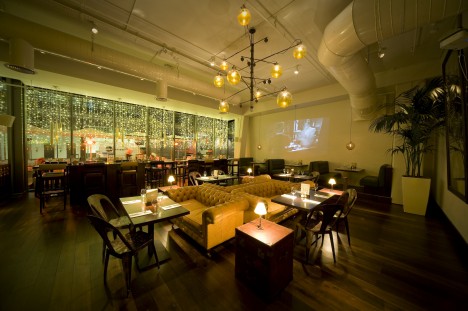 There are some down South who say Manchester restaurants are all fur coat and no knickers – more interested in appearances than serving authentically good food. One look at The Alchemist New York Street would probably make Observer food critic Jay Rayner break out in hives: It's one helluva fur coat. A wintry confection of white walls, distressed mirrors, and eyebrow-raising light fittings, which, much like its wildly popular elder sibling in Spinningfields, seems designed for maximum cool factor. As with all of Living Ventures' ventures, much attention has been paid to the stage set, with a Buster Keaton film projected on the wall and a DJ spinning vacuous house. It's rather shishi for this previously problematic corner of town, sandwiched between the bus station end of Piccadilly Gardens and the fragrant alleys of Chinatown. But on a Saturday night a scant two weeks after opening, the place was thronged. Clearly there was an upscale itch waiting to be scratched hereabouts.
I'll talk about the food in a minute. Nobody really comes to a place like this for the food, though. You come for drinks, you come for drinks and eat while you're there, you come to show off your new frock or admire someone else's. Cocktails (most £6-10) are the main event, and crucially, these deliver. I liked my apricot bramble, a devilishly sweet mixture of gin, lemon juice and apricot liqueur, and a lip-licking pineapple and coconut mojito was summer in a glass. My friend's favourite was the delicate white cosmo (adorned with a purple orchid blossom frozen inside a sphere of ice), but she also had much love for the opulent mess of the smoky old fashioned, dramatically finished off tableside. It was a nice piece of dinner theatre, but we both balked at the Mad Hatter's tea party, a sharing drink extracted from a smoking glass contraption that resembles a still crossed with a coffeemaker; order one and the entire room will gawk at your table. We didn't sample any this time, but the wine list looked interesting, too.
The food? It's not going to send you dancing in raptures down the street, but it ain't half bad. The folks who put the menu together cleverly focused on simple bar classics like burgers and steaks, fish and chips, posh sarnies and salads, with a few ethnic flourishes – and don't charge a ridiculous amount for the stuff either (starters £3-5, mains £7-15 with most on the lower end, puddings £4-5). Fried fish was light and fresh with the right crunch in its batter, and no complaints on the French fry-style chips. Crunchy outside, soft inside calamari was spot on and edamame was served with a five-spice and chili-infused dipping sauce so good I commandeered it for the rest of the meal. Salads – a chicken Caesar and an oversauced sticky beef – were just all right.  Less successful was a starter of baby scallops with bacon and cauliflower puree; served on three tiny, square plates it was infuriatingly hard to eat. And fried chicken in a basket turned out to be boneless strips served in a chicken-shaped egg basket. Okay for the kids maybe, but guaranteed to annoy anyone expecting the real deal.
Puddings were also a mixed bag.  A giant profiterole with fruit was too dry, but warm Belgian waffles glistening with cinnamon sugar, a scoop of vanilla ice cream melting on top, were just as wickedly good as our gem of a server suggested. Her opinions, always cheerfully offered, were much appreciated, especially when ordering cocktails. Navigating a drinks menu so dauntingly large is a tough proposition. Naturally, it's not the kind of undertaking you can complete in a single visit. I think some more sessions may be in order. Just in the name of research, you understand.
 The Alchemist New York Street, 1  New York Street M1 4HD; 0161 228 3856. Images courtesy of Living Ventures.
Not quite what you were after? If you want more food and drink inspiration, check out our tips for Chinatown restaurants, or read our guide to nightlife in Manchester.