Honest Burgers
Creative Tourist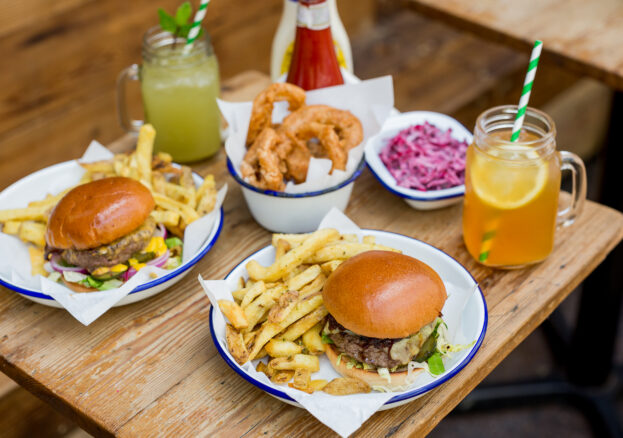 Review by Lucy Milburn: Situated beside the iconic Manchester Hall on Bridge Street, Honest Burgers is known for its simple menu of top-quality burgers, using 100% British beef direct from its own butchery. Catering for meat lovers, veggies and vegans alike, the burger chain has built quite the reputation for its seamless operation, scrumptious sides and dedication to working with local producers.
The burgers, paired with the signature rosemary salted chips and several glasses of prosecco, are a winning combination
We popped in for the first edition of its new boozy brunch, where guests can sit back and enjoy a burger from the regular menu alongside 90 minutes of bottomless drinks. Set over three floors with a hidden terrace overlooking Trinity Square, it's the perfect spot to soak up that rare Manchester sun this summer.
While this isn't your typical brunch menu, the burgers, paired with the signature rosemary salted chips and several glasses of prosecco, are a winning combination. The bottomless offer is a fantastic opportunity to try some of the specials on the menu which change every month and really showcase local ingredients. Currently, there's the option of Manchester's beloved variation, The Wellington, which includes a decadent bearnaise butter, crispy pastry, mushroom duxelles and bacon gravy.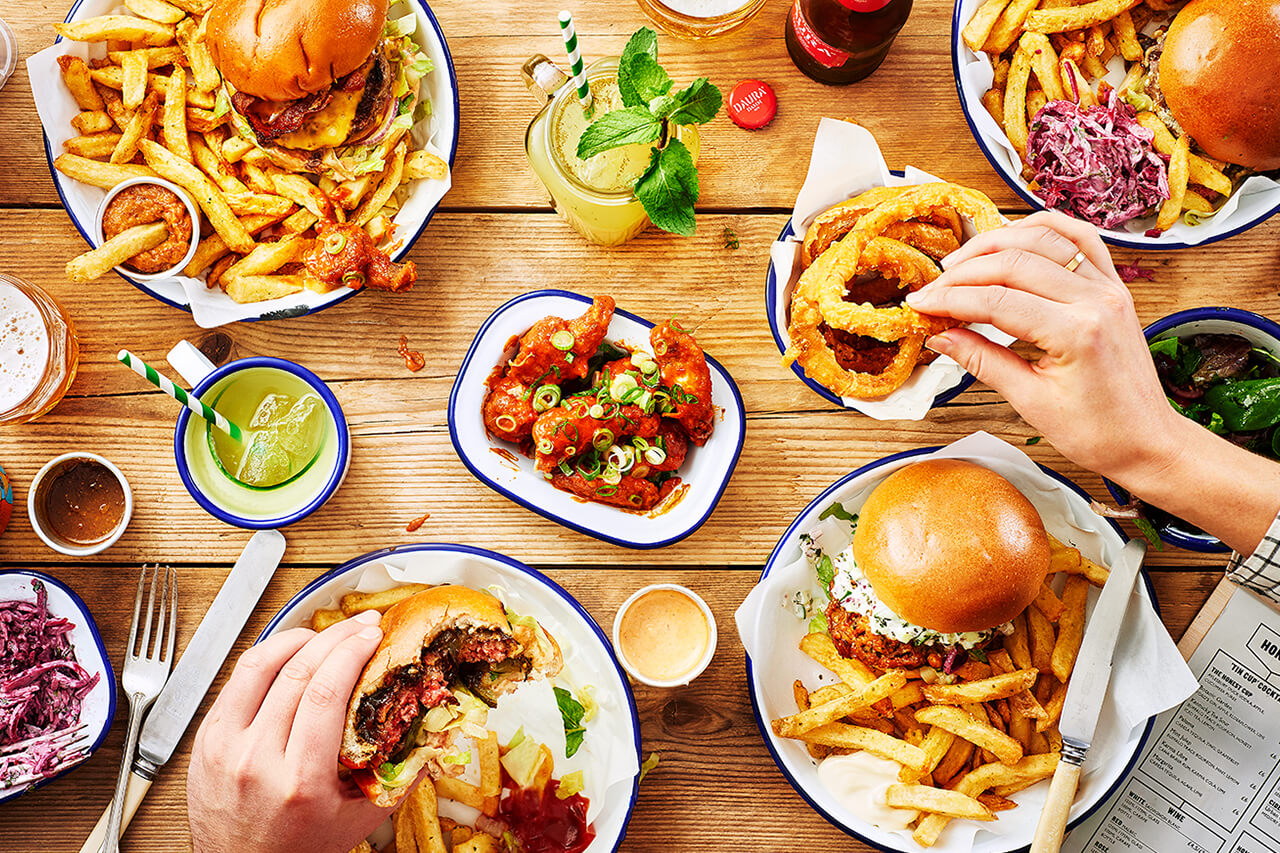 When you step into Honest Burgers, the interior is understated with bare bricks and a few splashes of forest green. We are quickly greeted with a smile and led upstairs to where the magic happens – we choose a bench on the terrace but there is also a range of booths and indoor tables. After much deliberation, we opted for the American-style Tribute burger and the Buffalo chicken burger, alongside a side of crispy onion rings and bacon gravy.
When it comes to the beef burgers, they're served medium rare and juicy as standard which perfectly complements the homemade burger sauce and gooey American cheese. The Buffalo burger came with an impressive fried buttermilk thigh, smothered in ranch mayo and Frank's RedHot sauce – it was certainly not for the faint-hearted at 1pm on a Saturday afternoon.
The gravy is full of indulgent beef and bacon juices
While we'd heard rumours about Honest Burger's famous fries, they were some of the most luxurious potatoes we'd ever tried. The star of the show, however, was the gravy – a dish full of indulgent beef and bacon juices, perfect for dunking. Drinks-wise, we had the choice of Gravity Theory cider, bucks fizz, prosecco and Burger Beer – an exclusive crisp lager brewed just 15 miles from the farm that grows the potatoes for those wonderful fries.
While there's a venue serving bottomless brunch on every corner in Manchester, Honest Burgers is a surprising contender. The front-of-house staff were attentive throughout, ensuring that our glasses were always pleasantly full and always on hand to advise. Although we left feeling rather overindulged, we'll be dreaming about those rosemary salted fries for weeks. With the quality of both the food and the service, this was an absolute steal for £30.