MIF23: Festival Square
Creative Tourist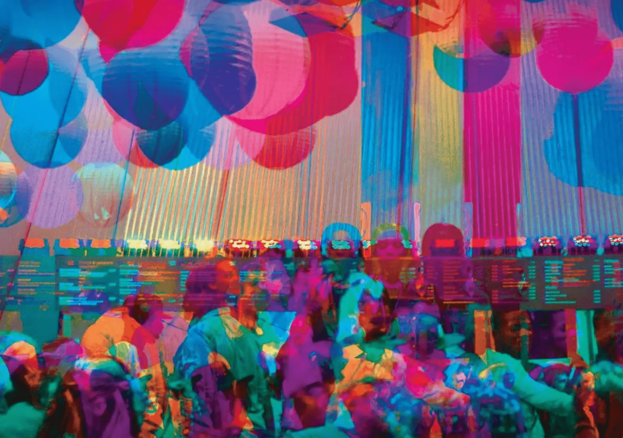 You'll find the beating heart of Manchester International Festival 2023 in an all-new riverside location this year, with Festival Square popping up on the banks of the River Irwell for the duration of MIF23. This is a brand-new outdoor space in Manchester, and the perfect location to catch up with friends, watch one of over 100 free live music performances and scoff down delights from one of the many hand-picked street food vendors.
An all-new riverside location for Festival Square this year
It might be a new location but you can expect the same high standard of festival fun we saw in previous years. From late-night DJ sets to family-friendly events, spoken word to live bands, Festival Square is all about discovering the best talent from the city and beyond, while enjoying a drink and a bite to eat.
Whether you want to head in before or after one of the big MIF23 events or you just fancy popping by to check out the latest happenings, this is set to be the hub of the entire festival, offering an all-new experience for regular visitors to this world-renowned event. This summer hangout will be open for the full two-and-a-bit week duration of the festival, right at the peak of summer when all eyes in the cultural world will be on Manchester.
Watch one of over 100 free live music performances
Wondering how to get here? Festival Square can be approached along Water Street (coming from Quay Street) or along Liverpool Road (coming from Deansgate or Castlefield). The Water Street route is the quickest way to arrive at the City Square entrance – the main entrance for this show.
Once again architected by Hawkins\Brown, Festival Square always brings the right vibes, usually beginning with mellow evenings of reflection and reconnection and ending with massive nights of joy and celebration.
There's a great line-up of artists, bands and DJs at the area's open-air stage, including Dutch Uncles, A Certain Ratio and Dave Haslam, plus onstage interviews with notable figures. This is more than matched by the food and drink vendors, which includes Zouk, Hip Hop Chip Shop, Caribbean vegan kitchen ARMR and Ginger's Comfort Emporium, as well as Super Serve (the crew in charge of Factory's hospitality when it opens later in 2023).