The Box Tree Restaurant
Carmel Smickersgill, Tours & Activities Editor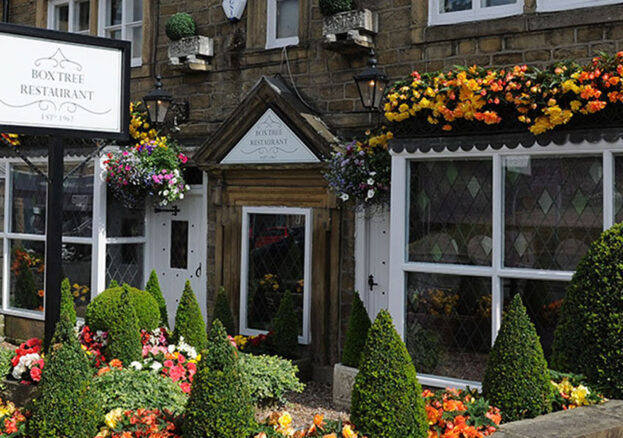 The Box Tree is a multiple award-winning fine dining establishment and one of the notable stops in Ilkley's culinary scene. Their dishes combine powerful flavour with elegant design that is only replicated in the antique furnishings of the restaurant itself. The menus change daily and rely on the freshest local produce to bring executive chef Simon Gueller's creations to life. Having opened in the 1960s and with two Michelin stars under its belt, The Box Tree has seen generations of innovative cuisine leave its kitchen and has been an important stepping stone on the career path of high profile chefs such as Edward Denny and Marco Pierre White. Join them for what promises to be an unforgettable meal.
This six-course culinary journey will show you the best of the surrounding Yorkshire produce
The restaurant was originally an old Yorkshire Stone farmhouse dating back to 1720. It was in the late 19th Century that the building was converted for business use and the box trees were first planted in the front garden. This is where the restaurant's name came from and you can still see the ornate planted gardens outside their front doors to this day.
The Box Tree's main and vegetarian menus are a splash of colour, flavour and texture that create drama between the plate and the surroundings in which you'll eat. Expect bold combinations and lack of fear in their pairings when it comes to wine recommendations. This six-course culinary journey will show you the best of the surrounding Yorkshire produce while leaving you with enough room to fully enjoy and savour each bite.
For those who may want something a little lighter (and cheaper) than the main menu, The Box Tree's lunch menu serves up a decadent three course version of their main menu that gives you more than a taste of the restaurant's idiomatic style. Be sure to also check out their Sunday lunch. Rather than reverting to traditional favourites the Box Tree gives you an elevated equivalent of a proper traditional Yorkshire Sunday roast.