San Carlo Bottega
Kate Feld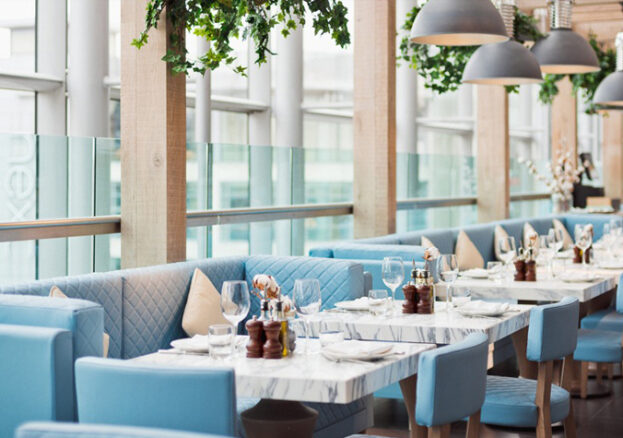 Luxurious settings compete with the food at Italian restaurant San Carlo Bottega.
From our table at San Carlo Bottega we had a clear view of the shop floor at Selfridges. There was probably some seasonal music being piped in under the chat and clatter of a busy lunch service. But all I could hear was a repeating chorus of Jingle Tills, the soft clink of lucre accompanied by the fizzing electric hum of ones and zeroes winging their way through the ether to the bottom line. It might be a lean Christmas elsewhere in this city, but within these scented walls it's basically Paris before the revolution, ma chere.
Department store restaurants are curious beasts: the food isn't really the point. It should be reassuringly good, of course, but not remarkable – the setting is much more important. And given that the restaurant closes with the store (there's no separate entrance, unlike Harvey Nicks across the square), it's all about lunch. Bottega proprietors the Distefano family opened their first place in Birmingham in 1992 and now own an array of high-end Italian restaurants in places including Knightsbridge, Kuwait City and King Street, home to perennial footballer haunt San Carlo. Recently, the Distefanos have done very well with Cicchetti at House of Fraser. Doubtless keen to repeat the formula, they've colonised Selfridges with a similar small-plate Italian, replacing the Frenchified Aubaine last month.
Department store restaurants are curious beasts: the food isn't really the point
This is an environment expressly designed to please the store's style-conscious customers. It's all duck egg blue leather banquettes, pale wood and dramatic skylights; everywhere is festooned with baubles the colour of pink champagne. And on a Tuesday in early December it was operating at full capacity, with dark-eyed, adept waiters navigating the froth will practised ease. Rosy babies and their nappy-bag toting handlers, ladies who lunch, well-heeled older couples and at least two tables of food critics ate at tables packed in together, Continental fashion: close enough to make eavesdropping easy, not so close that you'd give someone you don't know an accidental lapdance.
We ate an ethereal sea bream carpaccio with strawberries and Prosecco, big macho grilled prawns, a ruffle of smoked salmon perched on mustardy cream, and a ball of goat's cheese embedded with granola and fruit that resembled a 1970s canapé. All was resoundingly decent, yet attention to detail here is not immaculate. Our bread was stale and, worst of all, a ball of Burrata was served frigid, turning what should have been a transgressive act – piercing the cheese and letting the silky panna ooze out – into a cold shower of dull-tasting goo. You could almost hear it cry, "they flew me all the way from Puglia, for this?" But later, slices of venison lounged like red velvet on a bed of piquant winter berry compote and a fillet of sea bass wore a fetching coat of razor-thin courgettes.
Dessert held the meal's biggest hits: a mixed fruit strudel and a crinkled, eggy rum baba worth making a special trip for on its own. Fortunately, you can also get it down in the basement (or, as the gaffers amusingly prefer, the "lower ground floor") at the Farmacia Del Dolce, an Italian-style patisserie run by the same cabal, which also serves hot food. Some will certainly mourn the old Selfridges Food Hall, which has been replaced by beauty counters. But a session at Farmacia Del Dolce among the expertly decorated tarts should prove something of consolation. Let 'em eat cake.
This is an independent review, but our writer didn't pay for her meal. For more info on our editorial policy, read our About page.