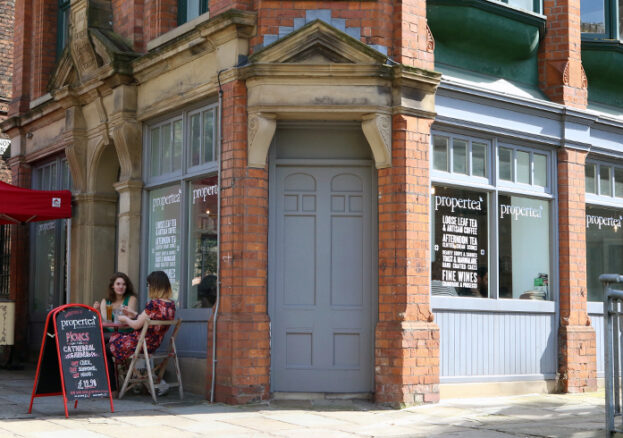 Proper Tea, is a café next to Manchester Cathedral which shows us, well, how a proper tea should be made.
Whatever your persuasion when it comes to tea – be it thoroughly brewed, tinted with a liberal measure of milk or sweetened with heaped teaspoons of sugar – one thing is for certain: we all enjoy a good "cuppa". Tea to the English is what pasta is to the Italians, what baguettes are to the French and what sausages are to the Germans – traditionally, at least. So when a new tea shop opens its doors on an English high street, it is likely to stir up interest. Situated in the historical heart of Manchester, Proper Tea offers both bag-laden shoppers and fatigued employees a much needed respite.
After ordering, you can begin to steep in the quietly impressive surrounds of this particular café. For, across the way, sits the solemnly imposing Manchester Cathedral, easily as grand a medieval house of worship as one would expect in York or Chester. These historical leanings are echoed inside the café, albeit in a slightly more up to date manner: there's a finely tiled Victorian checkerboard-style floor, while the walls are modestly white-washed and the shelves stacked with uniform tins of reserve loose tea. All in all, it resembles the no-fuss practicality of a Victorian scullery. Recycled glass jars, vases and sweet dishes serve as jaunty lampshades, while reclaimed interior doors (handles and all) prop-up the serving counter. It's a far cry from the awkwardly feminine, archetypal décor occasionally treasured by tea room enthusiasts.
After ordering, you can begin to steep in the quietly impressive surrounds of this particular café
Tea is served with almost scientific precision: accompanying the typical tea-making paraphernalia is a timer, used to time the brew for an optimal number of minutes. The glass tea pot and cups are satisfyingly transparent windows onto a gracefully swirling display of loose leaves and shifting, liquid colours. If the process of choosing a blend seems overwhelming, Proper Tea's staff can guide you through the options until you settle upon one every bit as sophisticated as your palette – which you might expect, considering Proper Tea is a joint venture between the Northern Quarter's own Teacup and apparent tea fanatic and TV broadcaster, Yvette Fielding.
For those with a sweet tooth, there's afternoon tea, with scones and clotted cream, or other quintessentially English cakes to sink your teeth into. Aside from an assortment of handcrafted indulgences is a wholesome collection of hearty soups, finger foods and sandwiches.
If the question that lingers – along with the fading taste of tea – is whether your finances will be drained, well, any hope of popping in for a quick smackerel and walking away with change will be quickly dashed. That said, where afternoon tea in Manchester city centre is concerned, this Cathedral café is actually competitively priced. So go ahead and pay a visit, soak up the historic scene, and fill up your cups with some proper tea.