Harvey Nichols' Second Floor Brasserie
Stephen Connolly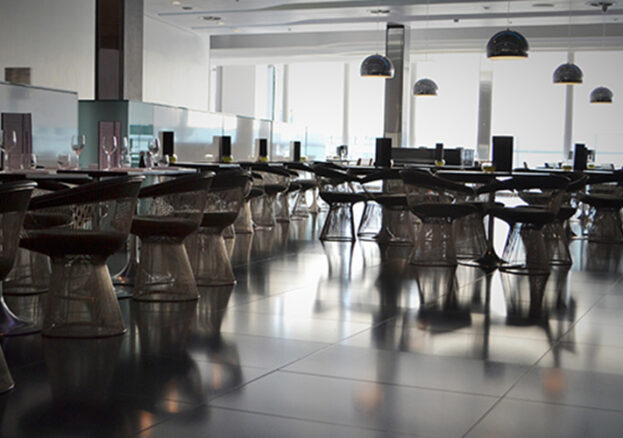 One of the problems with autumn and winter is that they're a hilly sprint compared to the flat marathon of spring and summer. While summer is a long stretch of hazy joy, the dark and cold of winter has to be punctuated by the best single bits of endorphin-rush festivities in the year; bonfire night, Christmas, new year. It's got all the ups but then plenty of the downs too. One of the ways to remedy that is through long-lasting winter treats which you can return to frequently throughout the colder months. Fortunately, The Second Floor Brasserie at Harvey Nichols in Manchester city centre is currently running a winter deal that's a long-term lift for the spirits; it's a menu for all seasons, so to speak.
The Brasserie is an urbane dining room mainly populated by well-heeled sets of lunching ladies and post-work city folk. Either way, it can be a convivial place for friends, but come dressed smartly and make the most of the opportunity to show off. Where it probably comes into its own is as a date-night destination. The huge windows which look out onto the Shambles Square and over to the Corn Exchange reveal an atmospheric view of Manchester that brings out much of what's best about the city's juxtaposition of past and present. I think young people call it Instagrammable.
A generous hunk of chilled ham hock terrine that comes with more cauliflowers than Cornwall
The current Winter Menu offers a set price choice of two or three starters, mains and desserts (along with a cocktail). A highlight from the starter selection is a generous hunk of chilled ham hock terrine that comes with more cauliflowers than Cornwall and a fruity, piccalilli-style puree that's sweet and spicy against the tiny sour onions and the rich meat. It brings to mind summer picnics with pots of chutney and creamy pork pies in gingham-topped baskets.
For mains, there are meat, fish or vegetarian choices in the form of intense rings of braised lamb, hunks of crispy-skinned salmon fillet or a roast squash with feta gnocchi. The salmon and kale is a fine, healthy option for new year diet adherents, but the indulgence of the lamb is the one for anyone still clinging on to the last vestiges of festive eating and winter fat reserves. Even if you aren't a fan of lamb, the smoked mashed potato and sauce has so much salty, savoury (almost barbecue) flavour that it becomes a dish on its own. It's one of those dream plates which you crave on a rainy Sunday afternoon when you forgot to put the slow cooker on twelve hours before and you can't face a trip to the outside world.
A small, layered vase with gradations of crumbly chocolate soil
If you're sceptical (northerner or not) of seeing parkin on a restaurant dessert menu then let your fears be calmed. The warm cake is substantial and thick with the chewy oats and fragrant spices which the best traditional recipes have. It's a rocket that's set off by lashings of cream, warm date puree and a pouring crème anglaise. The chocolate pot is good too: A small, layered vase with gradations of crumbly chocolate soil, a set ganache and a salted caramel base that comes with a shortbread surprisingly packed with hazelnut flavour. Use your spoon, or use the biscuit as a spoon, that's up to you. Just don't use your fingers.
Although it's not the first place you'd associate with value for money, at £22 for three courses and a cocktail I don't see anyone in Manchester beating this dining deal right now. The Winter Menu runs until 28th February.