Ossett Brewery Taproom
Polly Checkland Harding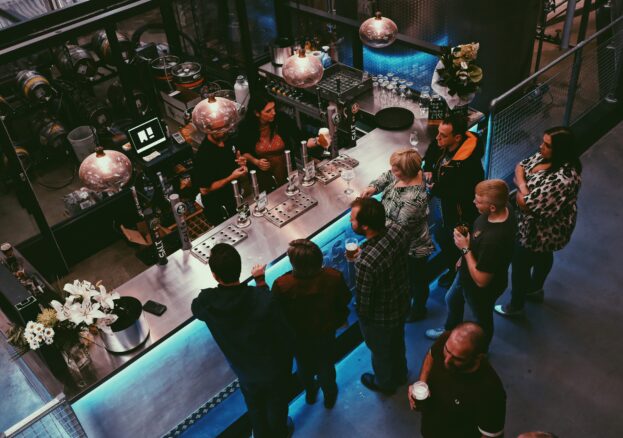 Under a half-hour drive from Wakefield city centre, the Taproom at Ossett Brewery has a sleek central bar, which is downlit with coloured bulbs and flanked by the enormous tanks in which the trademark Ossett beer is fermented. Here, you're right next to the brewery's state-of-the-art equipment, as close to where the action happens as you could possibly get. Outside, the taproom has plentiful outdoor seating, with picnic benches commanding fantastic countryside views. The Ossett Brewery Taproom is also host to regular live music and street food stands, such as the Yorkshire Cheese Grill; sandwiches and other cheesy dishes made using Yorkshire's finest cheese.
A family-owned, independent business, Ossett Brewery has won a raft of prizes for its beers, including several World Beer Awards, and the Best Ale up to 5% category in the International Beer Challenge 2020 for its Silver King – a flagship, hoppy pale ale. As well as its on-site Taproom, the brewery manages a long list of pubs, including The Hop in Wakefield, a unique real ale house that hosts a comprehensive live music programme and is one of the regular venues for the city's acclaimed music festival, Long Division.
The Taproom is also the end point on the Ossett Brewery tours, which are an opportunity to see behind the scenes of how the company's carefully crafted beer is made, and to understand how Ossett Brewery expanded from a microbrewery behind a pub into a multi award-winning brand. Lasting around 55 minutes, the tours finish in the Taproom with a tutored tasting of three Ossett Brewery Beers – the freshest possible samples each brew. Tour-goers are also encouraged to spend time in the Taproom afterwards, or to make their way to one of Ossett Brewery's homely pubs, The Brewers Pride, just a two to three minute walk away. It's hard to beat the on-site feel of the Taproom itself, however, or to pass up the opportunity to take home a few beers for later.