Theatre Royal Wakefield
Polly Checkland Harding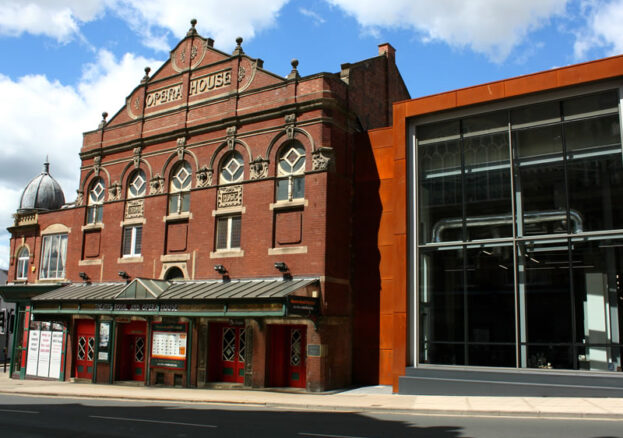 The Theatre Royal Wakefield is a beautiful Victorian theatre with an important architectural heritage, now home to a very modern programme of productions and shows. Host to a mix of music, drama and comedy alongside productions created at the theatre itself, including the hugely popular annual pantomime, the Theatre Royal Wakefield's stage is ordinarily occupied 265 days a year. There's also an emphasis on collaboration with the local community; the theatre has a team of over 140 volunteers, presents work by the community on stage and runs a busy learning and participation programme. The café-bar on Westgate is also open to visitors during the day for coffee, soft drinks and cake, transitioning into a full bar for the evening (drinks and refreshments are also available from the Circle Bar during productions).
The Grade II listed building that houses the theatre was built in 1894 and is the design of renowned theatre architect Frank Matcham – the man behind the Hippodrome in London, Theatre Royal in Glasgow and many more. This traditional Victorian theatre, complete with red velvet seats and a gold-leaf decorated Proscenium arch framing the stage, is both beautiful and rare; it's the smallest surviving theatre auditorium designed by Matcham. With seating for 499 people, the theatre has its own idiosyncrasies too: the prompt corner, from which the Stage Manager sometimes gives directions, is situated on the left, rather than the right of the stage. Adjoining the auditorium is the newest part of the building: the Walker Studio, built in 2018, is the perfect space for smaller shows, meetings and rehearsals.
The Theatre Royal Wakefield's Creative Director is John Godber, an award-winning writer and the former Artistic Director of the Hull Truck Theatre. Godber is the playwright behind popular productions including Bouncers, Teechers and Up 'n' Under; and together with the John Godber Company, the Theatre Royal Wakefield regularly produces his plays – including Scary Bikers which enjoyed an extended run in London's West End in 2019. It's a productive collaboration that helps to further bolster the theatre's appeal.