Create Café
Polly Checkland Harding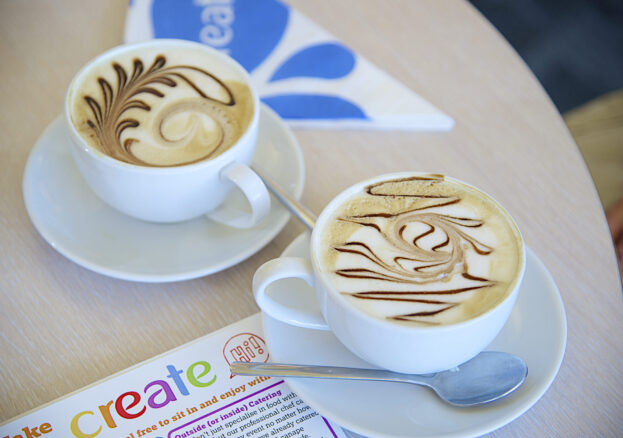 Create is not only a welcoming local café serving high-quality, freshly-prepared food, it's also a social endeavour: every purchase here helps to support the wider community. The company's motto is 'where good food and people matter', and the approach is to work closely with a number of other organisations to provide opportunities to experience the world of work for people with learning difficulties or mental health issues. Collaborating with Wakefield college, Mencap, a charity for people with learning difficulties, The Prince's Trust, which helps unemployed people under 30 and those at risk of exclusion from school, and a number of special needs schools, Create is a pathway to learning new skills, developing communication skills and more.
The menu here is made using fresh, locally sourced ingredients, and served in the café's large seating area, with its colourful chairs and lampshades. Visitors can eat in, or takeaway; as everything is made from scratch, there's a pre-order service that means your food will be ready to collect a short while later if you're in a rush. The café's range is broad, including a children's menu, all day breakfasts, salads, risottos, sandwiches and wraps, with main dishes including Panang chicken curry with rice, poached salmon, lemon and chive new potatoes and quiche of the day with chips and salad. There's a range of delicious cakes, as well as hot and cold drinks.
Create Café was started by Shaun Moundsey and Head Chef James in 2013; both started out in the hospitality industry as pot washers, and worked their way up to beginning their own business. Shaun was bar manager at Harvey Nichols in Leeds and restaurant manager and a countryside gastropub, while James was sous chef at the award-winning Create restaurant in Leeds, which has since closed. His passion for local, seasonal food shows in the café's menu and is one of the things that makes it a popular – as well as philanthropic – establishment.