Long Division Festival
Polly Checkland Harding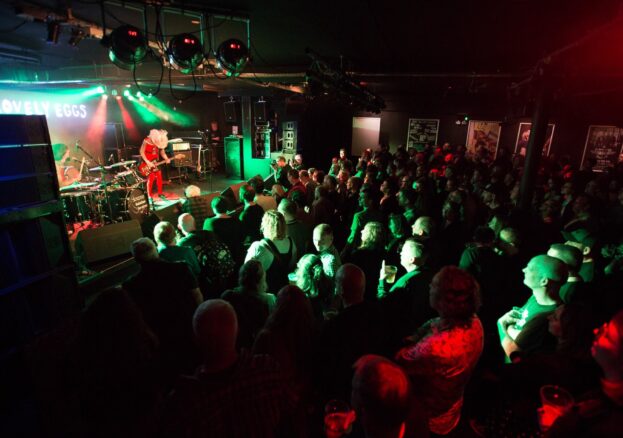 Long Division Festival was created at a time when there were no gig venues in Wakefield with a capacity over 150 people. This award-winning, metropolitan music festival was started in 2011, with Festival Director Dean Freeman cashing in his NHS pension to fund the project, despite the fact that Wakefield's music scene was largely overlooked by the national press. The festival's aim was to redress this by celebrating local talent, as well as drawing touring acts that rarely visited the city to the lineup. For the first two years Long Division Festival was partnered by Ossett Brewery – an independent Yorkshire brewery and Taproom in Yorkshire – holding shows in abandoned libraries, Wild West-themed nightclubs and other, overlooked corners of Wakefield.
Dubbed 'one of the best independent arts festivals in Europe' by Under the Radar magazine, Long Division Festival has since expanded to take place across Wakefield's entire city centre, with past headliners including British Sea Power, The Fall and We Are Scientists. The festival still places grassroots artists alongside the great indie and DIY artists and bands of the day, hosting acts that would never previously have played in the city. Some of Wakefield's best cultural landmarks are involved as participating venues, including visual arts charity The Art House and the Grade II listed Theatre Royal Wakefield – which is the smallest surviving theatre auditorium designed by legendary architect Frank Matcham. Acts have also taken the stage at unique real ale house The Hop and state of the art, 850 capacity live music and entertainment venue Warehouse23, among many, many more.
Long Division became a Community Interest Company in 2017, focusing on pioneering new projects that promote collaboration alongside artist-audience development. These include the #YoungTeam project, which received national coverage in the Guardian: this part-time five-month course aimed at 16 and 17 year-olds is designed to develop creative talent and cultural interest in young people. The core offer is enhanced with visits to The Hepworth, Wakefield's incredible art museum and winner of the Art Fund Museum of the Year 2017, Wakefield Jazz and the Rhubarb Festival  – the city's annual tribute to rhubarb, with special events, a traditional food and drink market, exhibitions, workshops and more. As a company and a music festival, Long Division continues to contribute to Wakefield's cultural regeneration.