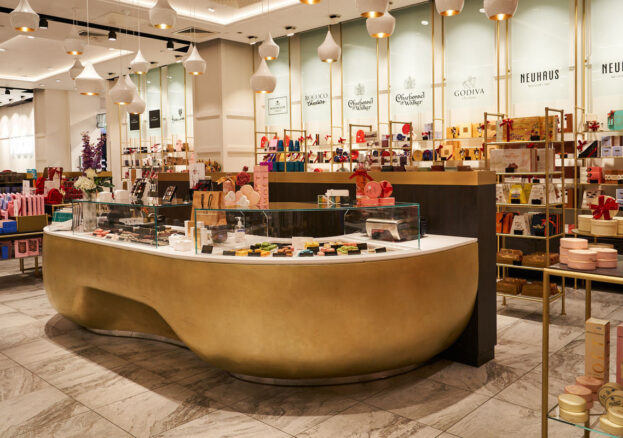 Walking down Northumberland Street, the main shopping street in Newcastle, you will eventually arrive at the iconic Fenwick. Fenwick is Newcastle's famous home-grown department store, and a fantastic retailer to visit on your trip to Newcastle.
Founded in 1880 by JJ Fenwick, the store quickly became Northumberland's go-to shopping experience and has remained so for the last hundred and forty years. The building itself has not been much tampered with, and the core shopping experience envisioned by JJ Fenwick – holistic, local, and family-friendly – remains at the core of the Fenwick enterprise.
Newcastle's famous home-grown department store
With a wide range of designer brands for both men and women under one roof, a trip here tends to supply all you could ask, including local brand Barbour's range of coats and clothing. After undergoing retail therapy, the Fenwick food hall is one of the best delis in the North East and serves up a plethora of local and international food and drink – from Northumbrian meats at Porterhouse Butchers and Grill, or Seafood at the Saltwater Fish, to the cakes and patisserie at Mason and Rye.
After that, the connoisseur can also pick up some of the local alcoholic beverages in the brewery outlets and wine merchants, who stock a fantastic range of own-brand and world wines, whiskeys, and spirits.
A particular seasonal treat is the world-famous Fenwick Christmas window. From November through to January, Fenwick is host to a heart-warming scene of animatronic figures who tell the story of Christmas as you walk past each window. The theme changes every year, from an Aliens-themed Christmas to traditional nativities and a whole host of Children's stories, the Christmas window provides huge enjoyment for all residents of Newcastle and the North East. Schools regularly organise trips down to see it near the end of term, and families gather for its unveiling which has become one of the first signs of the Christmas season starting.