Newcastle Civic Centre
Melanie Xu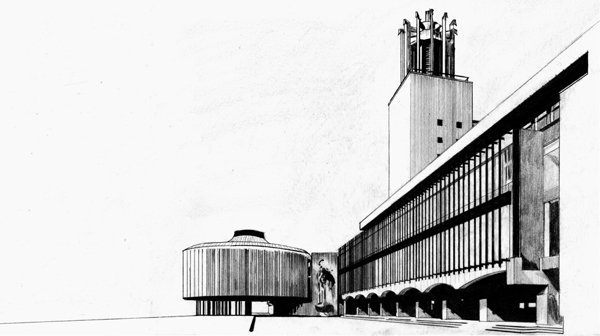 Newcastle's Civic Centre – the city's modernist governmental hub and symbol of post-war idealism.
In the centre of Newcastle, twelve bronze seahorse heads sit proudly above a brilliant copper green tower. These semi-equine forms are a signal to visitors; they lead to the heart of the city's history and spirit.
As one of the few surviving examples of 1960s architecture in Newcastle, the Civic Centre crystallizes the cultural and social ambition of that era. Built during the hopeful post-war regeneration of Britain, it's clear that the architecture was driven by idealistic values as well as aesthetics. A huge budget gave G W Kenyon, the city's architect, the resources to capture Newcastle's cultural identity through a new modernist lens. The use of Portland stone, also chosen for Buckingham Palace and St Paul's Cathedral, is an indication of the statement that Kenyon wanted to make in a city full of sandstone and brick; one of the original stones selected by Wren for St Paul's is inset into the southern wall.
Combining a twenty-five bell carillon on the top of an office block, an elliptical council chamber on stilts and a courtyard, the Civic Centre was unlike any other building in Newcastle in the 1960s and remains unique to this day. As well as being visually striking, there is also a strong sense of social inclusiveness. For example, the tranquil courtyard, officially named "The Garth", invites the public into the heart of the building via two specially commissioned David Wynne sculptures; a huge Bronze River God and five Scandinavian swans. On a sunny day, the friendliness of the Civic Centre is evident as the grounds fill up with picnicking families, teenaged skateboarders and even a few rabbits.
Civic Centre was unlike any other building in Newcastle in the 1960s and remains unique to this day
Long before the Newcastle-Gateshead "City of Culture" bid in 2002, the Civic Centre was already championing the arts and this translated into a playful approach to motifs and symbolism. The seahorses, which are borrowed from Newcastle's coat of arms, act as a reminder of the city's seaport history. They are everywhere – appearing in various forms including crystal chandeliers and carpets. A large tapestry in the Banquet Hall, designed by John Piper, mimics the shapes and colours found in Northumberland. More subtly, clean Scandinavian lines and walls of Norwegian Otta slate acknowledge Newcastle's previous cultural and economic links with Norway (which may soon continue; there are regular rumours that the direct ferry between Bergen and Newcastle will be re-established).
Like the city and its inhabitants, the Civic Centre is welcoming, striking and full of stories. Formal tours of the Civic Centre can be arranged and are free for groups with fewer than five people. There's no better introduction to Newcastle.