Pizza Punks
Ian Jones, Food and Drink Editor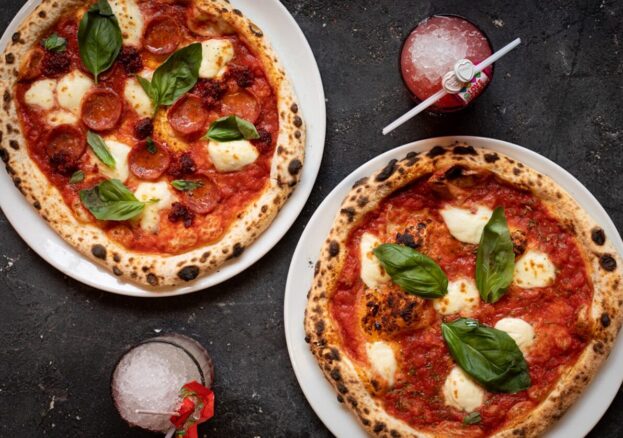 Veganuary update: Pizza Punks delivered one of the most simple and best cook-at-home options late last year, with their pizza party box and now they have a sister brand, Veganizza, dealing in all-vegan pizzas. Remember, vegan pizza is for life, not just for Veganuary. Click the 'visit now' link below to check out these plant-based discs of ethical deliciousness.
—
Pizza Punks have a few restaurants across the nation, with homes in Glasgow and Belfast as well as Newcastle, with yet more scheduled to launch in the next few months. So what's all the fuss about? For the purposes of this review, we're looking at their cook-at-home pizza kits which come with a couple of tubs of 48-hour proofed San Franciscan sourdough, your chosen toppings (in my case: Spanish chorizo, red onion, jalapenos and pepperoni), your tomato base and a hefty amount of grated mozzarella cheese. The whole box comes wrapped in those thick fur-based cooler blankets and some bags of frozen ice so it can stay chilled all day if necessary.
Putting the whole thing together is as easy as pizza pie
It also comes with a cocktail – enough for two. I went for the Drumstick Caiprisma, a sweet treat built around vanilla-infused rum, raspberry rum, fresh lime juice, served with retro drumstick lolly. It's strong enough to deliver a thwack, but not so the flavours are dominated by the alcohol. Stick on a best of 90s R&B playlist and squint and it actually feels like you're out at a real live bar. Almost.
As for putting the whole thing together, it's as easy as pizza pie. The instructions are clear-as-can-be, talking you through every step – although let's be real: it's pizza; you're not putting together a matchstick model of the Sistine Chapel. You can even break the rules, punk-style, and add a few extra ingredients, no one will ever know. Me? I'm a law-abiding food critic and stuck to the method given, to the letter.
Much better value and a lot more fun than the mainstream pizza names
And it was superb. The sourdough gives it a different texture and taste to the bog-standard high street pizza places. Cook it for the exact amount of time and you'll end up with some nice charred bubbly bits and perfectly cooked-through toppings. All this for a mere £29, which works out at much better value and a lot more fun than the mainstream pizza names.
There's even a Christmas Pizza Party version that comes with a Christmas playlist and bonkers festive toppings like confit turkey, pigs in candied blankets, shredded sprouts with smoked bacon (!) and garlic and sage pork stuffing. Me, I'm not so sure about a sprout pizza but you might have a richer, more varied palate than I, and if so, all the season's best to you. I just hope you got a Yankee Candle off Santa.