Cocoa Cabana Ancoats
Martin Kevill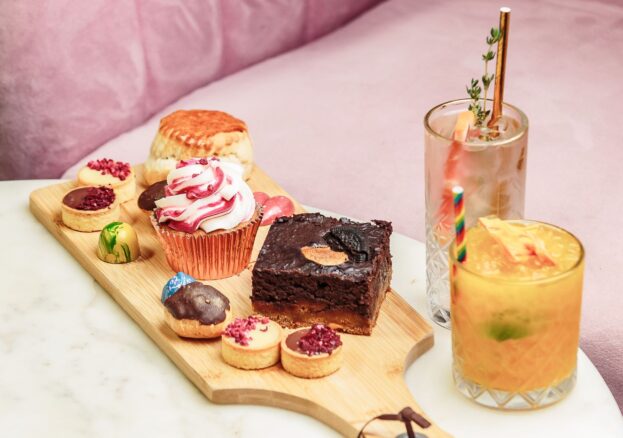 Cocoa Cabana has been knocking about in West Didsbury for years, producing award-winning chocolates, cakes and afternoon teas to anyone and everyone lurking about on Burton Road. The Ancoats spot, next door to Trove and just off Cutting Room Square has been around a few years too, giving city centre dwellers a chance to pop in for its popular brunch offer, which features homemade potato cakes alongside its flagship dish, the Hot Cabana; potatoes, mushrooms and spinach sauteed in garlic-basil pesto, topped with roasted cherry tomatoes, pork chipolatas, bacon and poached egg, served with toast and hollandaise sauce.
But there's more than meets the chocolatey eye with Cocoa Cabana Ancoats. You see, at night, the place is transformed into a decadent cocktail bar, complete with glittering cocktails and live music to watch as you sip, sip away. The cocktail menu is a portfolio of fizzy bliss and changes with the seasons, so you're always getting something right on trend and built fresh for the time of year. They've all been given that Cocoa Cabana twist too… nothing standard in this establishment.
At night, the place is transformed into a decadent cocktail bar, complete with glittering cocktails and live music
With a DJ every Saturday from 4pm and a swathe of other events like Drag Bingo, cocktail or chocolate making classes and tasting nights, Cocoa Cabana Ancoats is a pretty dynamic spot for anything from big corporate events to little one-on-one first dates.
So that's the brunch and the evenings and events covered. Now on to something really special… the Cocoa Cabana Afternoon Tea.
With a vegan option available on request, the afternoon tea is a chocolate fanatic's dream, presenting a selection of surprisingly good cocoa-based treats alongside a mix of savoury sandwiches. Smoked Scottish salmon, Roast beef pastrami, egg mayonnaise and grilled halloumi; there are some real gems here that take the concept of afternoon tea off the beaten track a little and pack the experience with some savoury flavour. However, as you'd expect, the sweet stuff is mind-blowing.
The first icon is the homemade scone with clotted cream and salted caramel. It's a bold, decadent twist on the classic jam combo and it sets the scene nicely. There's a homemade brownie, a chocolate tart made from white chocolate Tonka bean and raspberry, a macaron and a chocolate-dipped strawberry. I feel done in just typing it out, to be honest.
The afternoon tea is a chocolate fanatic's dream
The afternoon tea showcases some of Cocoa Cabana's finer skills too, with a small selection of its very own handcrafted chocolate truffles. You see them as you walk in alongside the imaginative and daring cake selection by the counter. The truffles are beautiful; exactly the level of craftsmanship you'd expect from ex-Slattery pâtissier and Cabana founder, Sarah Gallacher. The range covers seasonal trends, Mancunian-inspired creations and nostalgic classics with a twist. They're available to buy in gift boxes in the Cabana or online and they're highly recommended.
The online offering includes boxes of chocolates, birthday and wedding cakes, and gooey, small-batch brownies directly to your door.
There's so much to offer at Cocoa Cabana Ancoats that it's like a chameleon changing its colour to suit your mood, your clientele, your occasion and your appetite. If you're strolling around Ancoats and your sweet teeth start giving you stick, there's only one place to go to shut them up.