Winter Holiday Fun at the Science and Industry Museum
Sarah Gaffney-Lang, Families Editor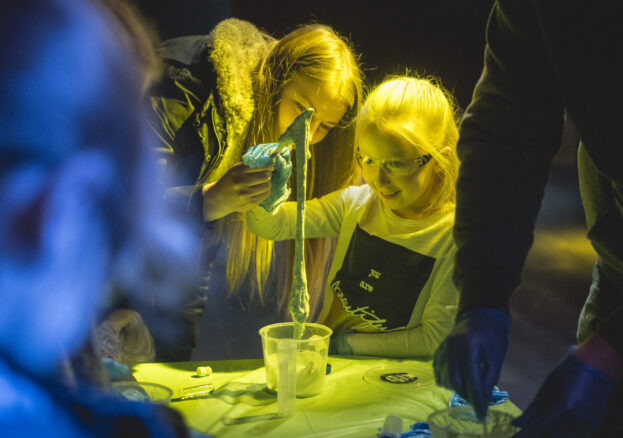 You may have missed it while you've been wrapped up preparing for Christmas (we'll let you off), but Jesus isn't the only one with a Birthday this month – we want to wish a very happy 150th Birthday to the periodic table! The Science and Industry Museum didn't miss it of course and have a host of Christmas holiday fun lined up for the whole family, with a special look at the building blocks of life, the universe and everything.
There'll be daily activities, including making your own gloop, designing a brand new element to put on the periodic table and you can find out how stars like the Sun rely on chemical reactions for their power.
It's also a chance to check out the museum's major exhibition of the year, The Sun (where the kids go free), experience the power of working textile machines in their daily demonstrations, discover how early computing took off in Manchester and take a trip to the oldest surviving passenger station in the world.
The museum is closed 24th – 26th December and on 1st January. Outside of those dates the following will be taking place each day during the school holidays:
SCIENCE SHOWDOWN: THE SUN
Time: 12.00, 13.00 and 15.00
Three facts about one big star, but which one is best? To help you decide, volunteer to be trapped in a bubble and find out how the Sun powers life on Earth in this fast and funny science show.
SLIME FACTORY
Time: 11.00– 13.00
Age: 5 and older
Join the gloop gang! Mix your own sticky, yucky stuff in these Slime Factory workshops.
ELEMENT INVENTORS
Time: 14.00–16.00 (drop in)
Age: 5 and older
Make and model your very own imaginary element to help build a brand new periodic table and become a creative chemist.
A STAR IS BORN
Time: 11.00 and 13.30
Age: 0–4 years
Hear about the birth of a star in this relaxed story telling session for under 4s.
The Science and Industry Museum is as hands on as it gets, so if your little ones need to burn off some of the excess energy from all the Christmas chocolate check out their programme of holiday fun.