Power UP at the Science and Industry Museum
Shekina Rose, Families Editor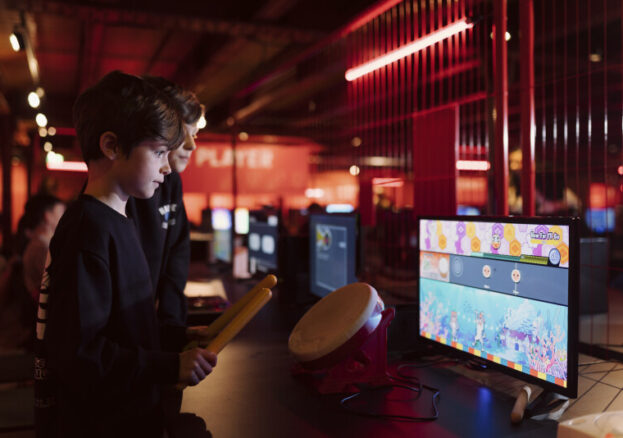 Please note: this event takes place during weekends and school holidays.
Families of Manchester! Do you just LOVE gaming? This half term, head to Power UP at the Science and Industry Museum in Manchester for an out-of-home, extraordinary gaming experience like never before.
Step inside Power Up, a brand new gaming experience taking place daily at the Science and Industry Museum. Go back in time and rediscover lost memories, as you enjoy some your favourite video games from the past fifty years, great fun for the grownups too. You'll get to try out over 100 hundred different consoles, and travel down memory lane, while also trying out some of the latest gaming fun, including having go with some of the incredible, newest, virtual reality headsets. As well as actual, well, playing, you'll also get a chance to experience some learning, too. Power UP also features a new exhibition space that showcases the Manchester-based people who have helped to develop the city's gaming industry.
After you've had enough gaming (possibly impossible – never enough gaming), visit the Textile Gallery. Here, you will see revolutionary innovations that kickstarted the beginning of the Industrial Revolution, and other, more mundane, yet fascinating objects that provide an insight into the day-to-day lives of people who worked in the cotton mills.
For more world-changing inventions, head to the Revolutions Gallery. You'll get a chance to see one of the first Rolls-Royce motorcars, said to have been driven by Henry Royce himself and a working replica of Baby, which was the first ever computer to run a program, and was the first machine to contain the components now regarded as characteristic of the basic computer.
For science fans, don't fret, the family-favourite, interactive Experiment Gallery designed for the whole family will be open and free to explore. See science in action as you make music with your body, test your strength by lifting a car with one hand only, see through walls and use the incredible thermal camera to learn about heat vision, just a few of the exciting activities on-hand in the Experiment Gallery.
Entry to Power Up is £8 for adults, £6 for children and concessions (family discounts available) and needs to be booked in addition to museum entry.