The Welcome Poetry Slam at Aviva Studios
Sarah-Clare Conlon, Literature Editor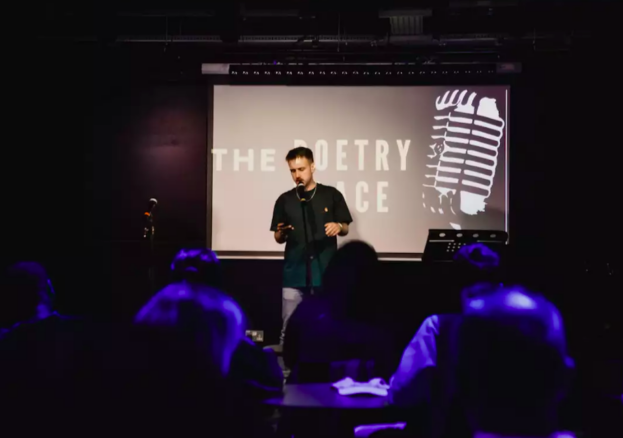 Head to Factory International's new building Aviva Studios for the very first Poetry Slam to be hosted there, led by vibrant Manchester-based wordsmiths collective The Poetry Place.
The idea of the Welcome Poetry Slam is to celebrate words by putting them centre stage with a dynamic line-up of talented poets and spoken word artists from across the region. Ten exciting Greater Manchester-based acts have been selected through an open call for applications. They will share their skills and original work in front of a panel of judges, battling it out to take the top prize… "Poetry has never been more fun", we're told.
Earlier in the day, there are two two-hour creative writing workshops, both free, but book in advance. Emerging writers are invited to join award-winning writer Anita Sethi (midday to 2pm): "Get your pens ready and discover the wonders of writing – whether non-fiction, fiction or poetry." Anita Sethi is the author of I Belong Here: A Journey Along the Backbone of Britain and a regular newspaper and magazine writer. From 2.30pm to 4.30pm, explore empathy through hip-hop and soul with a writing workshop, "The Art of Storytelling", led by multi-faceted artist LayFullstop – and if you're feeling brave, you can perform your writing on stage in the Social after the workshop.
Stay behind after the Welcome Poetry Slam, and from 8.30pm, Manchester-based poet (and Young Identity guru) Shirley May is joining forces with multi-talented musician Busha Mann and vocalist Ellouise Bridge to perform their EP Rain Fall – featuring poetry offering a mix of humour and serious reflections, Shirley May's EP is a tribute to the importance of family and holding on to traditions.
The Poetry Slam is part of The Welcome, "a spectacular series of events and performances curated by Factory Assembly. Over nine days this November, we're filling every inch of the building with a cultural celebration like no other, from showstopping live performances to immersive installations. The Welcome is a celebration of Greater Manchester, its people and our building."