The Snail and the Whale at The Lowry
Shekina Rose, Families Editor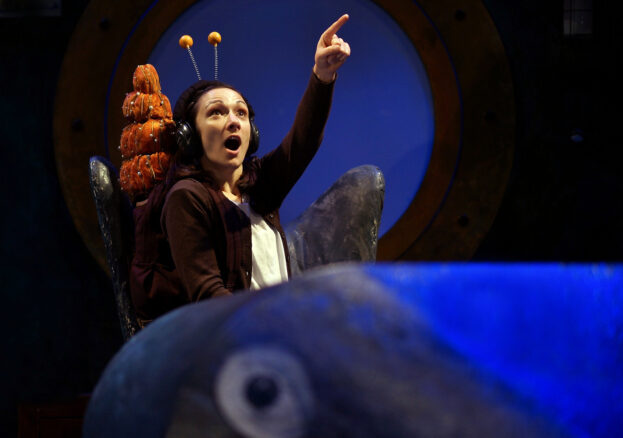 This June The Snail and the Whale returns to The Lowry, in a critically acclaimed musical adaptation of the bestselling picture book by Julia Donaldson and Axel Scheffler.
Produced by Olivier Award-nominated company Tall Stories, also known for The Gruffalo and Room on the Broom live on stage, this heartwarming production tells the story of a tiny snail who longs to see the world, and her unlikely friendship with a very large, but friendly, humpback whale.
Together, the surprising duo embark on a journey across oceans and seas, encountering sharks, penguins, icebergs and volcanoes along the way. They become close friends, but one day, the whale gets beached on the shore, and it's up to the snail to save her best friend!
The main characters are brought to life through the eyes of a brave young girl who would like nothing more than to go around the world with her seafaring father. The backdrop of this real-life story makes the production even more charming and relatable for young people, and a great reminder that our imagination is truly one of the best tools we own, and a lot of fun too!
Featuring a combination of live music, puppetry, and storytelling, and at less than an hour in length, The Snail and The Whale is a production designed to engage and delight young audiences, and is a great way to introduce young children to the pure magic and wonder of live theatre, in a fun and exciting performance that holds at its core the themes of friendship, imagination and adventure.
The Snail and The Whale at The Lowry is aimed at young people aged 4-10 – but grownups will love it too! Book your tickets through the link below.
"There's real charm in this production." The Scotsman
"Faultless family fare" WhatsonStage.com
"Captivating, inventive storytelling along with beautiful live music and songs – it's highly recommended that you climb aboard and set sail!" Edinburgh Festivals for Kids
"It's ingenious, nattily staged, and like the little snail at the heart of the story has big ambitions and wide horizons. Very nice." The Guardian