The Chosen Haram at The Lowry
Kristy Stott, Theatre Editor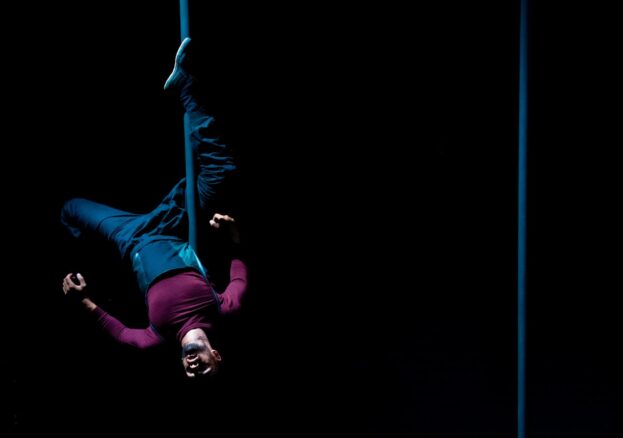 Exploring themes of sexuality, faith, addiction and human connection, The Chosen Haram tells the story of two queer men and their chance meeting through a dating app. What makes this 'boy-meets-boy' narrative so ethereal is the fact that the story is told through a combination of extraordinary physical theatre and gravity-defying circus.
Performed on two Chinese poles to a pumping soundtrack, The Chosen Haram features lead artist and performer Sadiq Ali and co-deviser and performer Hauk Pattison. Portraying the highs and lows of a relationship and the social and cultural barriers at play, the show is based on Ali's personal experience and is also informed by interviews with members of the LGBTQ+ community who identify as (ex) Muslim.
'Haram' is an Arabic term and means something that is forbidden by Islam. A contemporary love story, The Chosen Haram charts their relationship from the initial meeting via a dating app through to the personal barriers they have to overcome to find happiness and fulfillment. The show aims to open conversations around some of the issues faced by LGBTQ+ (ex) Muslims and highlight the personal struggles faced by those whose upbringing contradicts their personal truths. Elevating and heartwarming, the show also looks to celebrate the resilience of the self.
Running for around an hour, this beautifully told two-hander examines the explosive meeting of religion and romance through spectacular and skilful choreography on the Chinese pole. Soaring, spinning, scrambling and sliding, two flexible, four-metre-high posts provide an impressive setting by which to explore the tensions and desires surrounding a young Muslim man torn between his faith and his sexuality.
Originally from Edinburgh, Sadiq Ali trained at the National Centre for Circus Arts in London and this is his first full-length piece of work. The performance has been well-received by both audiences and critics – garnering four-star reviews from both The Stage and The Guardian when it was performed recently at Scotland's Manipulate Festival. Don't miss out when it visits The Lowry this March.