Macc Stories at Macclesfield United Reformed Church
Sarah-Clare Conlon, Literature Editor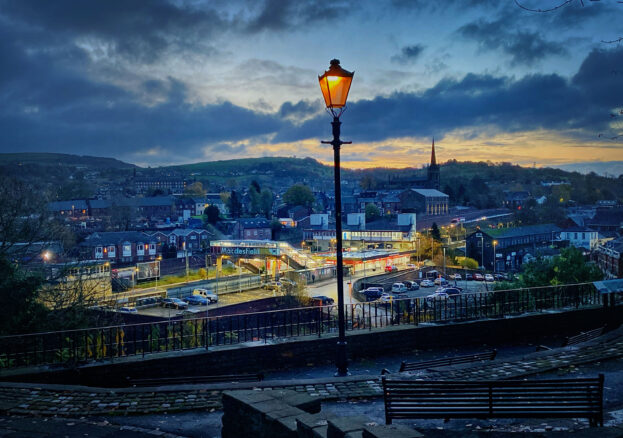 The first-ever LIT Macc "weekend of stories and light" runs from Friday 22 to Sunday 24 November in venues across Macclesfield, with lots of opportunities to experience unique and original performances and take part in story-related activities (such as sketching the streets at dusk while costumed characters tell tales) and workshops, including writing and performing flash fiction (with David Gaffney and Fat Roland, respectively), crafting short stories (with Nicholas Royle) and developing your creative nonfiction skills (with Kate Feld).
The Macc Stories event on Saturday evening, meanwhile, will see the premiere of six brand-new short stories, commissioned especially for the festival. Six acclaimed, published and award-winning writers from Manchester were invited to Macclesfield to create pieces of fiction from the point of view of outsiders, arriving on different days during early autumn to poke about the place and find out about its history and inhabitants. They learnt why it's called the Silk Town, discovered what's behind the Treacle Market, explored the Forest, chatted to Maxonians and generally found inspiration in the mills and hills. All kinds of details and interpretations fed into the stories, so expect all kinds of styles and themes – everything from fashion and football to worshippers and woodlands, with some intriguing and unplanned interlinking moments.
Six acclaimed, published and award-winning writers from Manchester were invited to Macclesfield to create pieces of fiction from the point of view of outsiders
Taking part in the Grade II-listed United Reformed Church, opposite a big-brand pub that was once home to the Macclesfield Useful Knowledge Society, the evening should be enlightening whether you've lived in Macc your whole life or whether this is your very first trip. The writers – Sarah-Clare Conlon, David Gaffney, Abi Hynes, Nicholas Royle, Reshma Ruia and Joe Stretch – will be performing for the very first time the six short stories they created as a result of their visits.
For example. Abi Hynes (who used to run one of our old favourites, First Draft) has discovered the ghost of an archbishop separated from his heart in The Savage Chapel based at the imposing St Michael & All Angels Church: "If I stray and find myself unravelling, it is here that I come back to: encased, entombed. Safe as only the dead are safe."
Meanwhile your very own Literature Editor, dear reader, has taken inspiration both from Macclesfield's Silk Museum and from a chat with Dr Miles Lambert about the Ossie Clark and Celia Birtwell show he curated a few years back at Manchester's Gallery of Costume (where Liz Mitchell is currently hosting open door events at the Platt Hall site) for her piece A Blast Of Light And Then It's Gone: "You can trace where the Silk Road and the railway line criss-cross the river, which veers off to meander along a valley brimming with bulrush-clogged mini oxbows stippling the land's surface, herons watchful at the edges…"
For an extra layer of intrigue, each story will be read set against its own backdrop of specially commissioned visuals by Not Quite Light photographer Simon Buckley, who captures on film the half light of dawn and dusk, including the now-famous Stephen Fry-praised Lowry-esque Manchester Rainstorm, Deansgate – recently featured in the Observer.
What will the photographer and writers have gleaned about Macclesfield and its folk from their mooching, eavesdropping and simply watching the town's world go by? Get yourself along to Macc Stories and find out…