We Were Strangers launch at Waterstones
Sarah-Clare Conlon, Literature Editor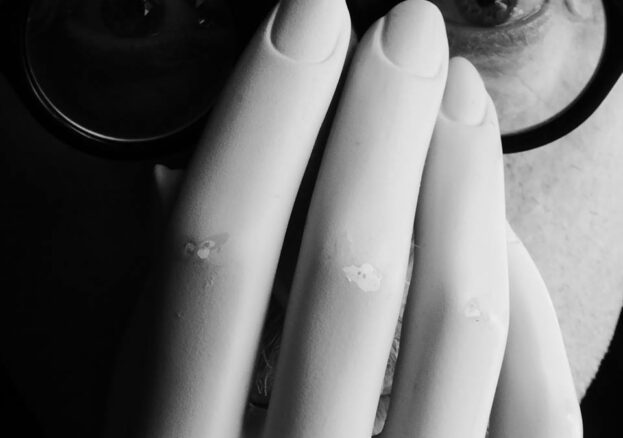 Serendipitously coinciding with an "in conversation" fundraiser for Salford Lads' Club a week later featuring bassists Peter Hook of Joy Division (then New Order) and Stone Roses (then Primal Scream)'s Mani, Manchester-based independent publisher Confingo launches We Were Strangers, a book of short stories inspired by that first band's seminal debut album, Unknown Pleasures.
Each of the 10 original short stories in the new anthology takes a track from Joy Division's 1979 Factory album as its title, each specially commissioned from acclaimed writers (and music fans) by editor Richard V Hirst, joint winner of the 2011 Manchester Fiction Prize. Richard says: "Ian Curtis's legacy lies principally in his distinctive lyrics, suggestive as they are of some kind of story, a chronicle of isolation, anguish, biblical conflict and ecstasy, but one whose plot, characters and structure are all lost in the dark and the fog. The stories constitute a contemporary literary snapshot of the impact Unknown Pleasures has had: what we heard, what it has done for our imaginations, and where it has led us."
Just like the songs which make up Unknown Pleasures, the stories in We Were Strangers – with their eclectic mix of narrative styles, forms and voices – range from the bleak and sinister to the moving and thrilling, and the whole delivers a thoughtful, absorbing and intense response almost 40 years on.
Split into two, with a "graphic interlude", Transmission, by the publishing house and its literary magazine's art director Zoe McLean, the first half sees Nicholas Royle take on Disorder, Betty Trask Award winner Jenn Ashworth tackle Day Of The Lords, Edge Hill Short Story Prize winner Jessie Greengrass in charge of Candidate, David Gaffney Insight and Sophie Mackintosh New Dawn Fades. In the second half, Zoe Lambert has She's Lost Control, Toby Litt handles Shadowplay, Ali Smith favourite Eley Williams picks up Wilderness, Louise Marr gets Interzone, and Anne Billson rounds off the nicely packaged tome with I Remember Nothing.
Reading at the Manchester launch event are flash fiction pioneer and author David Gaffney, whose first graphic novel The Three Rooms In Valerie's Head, came out earlier this year on US publisher Top Shelf; Zoe Lambert, who has an acclaimed collection, The War Tour, out with Comma Press; Sophie Mackintosh, winner of the 2016 White Review Short Story Prize and currently on the Man Booker longlist for her debut novel, The Water Cure, and novelist and short story writer Nicholas Royle, whose third short story collection, The Dummy and Other Uncanny Stories, just came out and whose second collection, Ornithology, was the first book to be published by Confingo and was recently longlisted for the 2018 Edge Hill Short Story Prize. A perfect evening for fiction and music lovers alike, we reckon.