Paradise Mill
Tom Grieve, Cinema Editor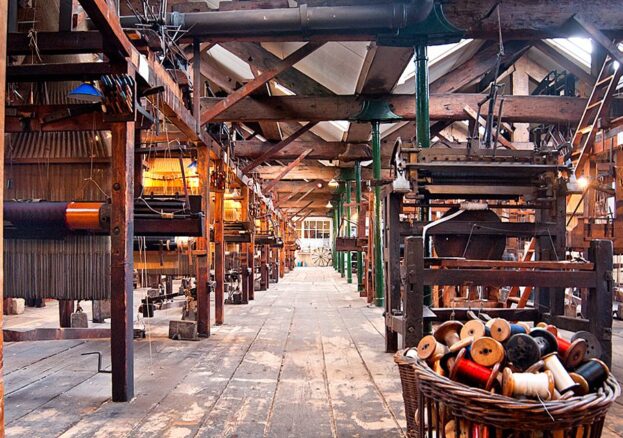 Located next door to The Silk Museum is Paradise Mill, a listed former industrial building built for silk manufacture by owner John Bagshaw. This restored mill offers a glimpse of Macclesfield's heyday as a centre for the silk industry, providing visitors with an opportunity to step back in time and experience the hustle and bustle for themselves. Featuring Europe's largest known collection of Jacquard silk handlooms in their original setting, visitors can experience the weaving process for themselves — from cocoon to finished fabric.
The Upper Mill was originally built around 1824, with the Lower Mill added in 1862. The mills were used variously for cotton and silk manufacture until 1891, from which time they were used exclusively for silk. Over the decades Paradise Mill has hosted numerous tenants and manufacturers, with Arthur Kenwright and Percy Sheldon taking over in 1912. The firm went into liquidation in 1981, but within a few short years work began to restore the machinery, converting the mill into a working museum where silk could once again be woven on the old handlooms.
Alongside The Silk Museum, Paradise Mill provides an opportunity to learn just how Macclesfield came to be known as The Silk Town, and all about its role as an early industrial centre. Note that children go free at Paradise Mill, while there is a charge for adults. Gifts and souvenirs are available in The Silk Shop, located next door within The Silk Museum. Paradise Mill is currently closed for essential maintenance and is due to reopen in late autumn 2023. During this time, new tours are available at The Silk Museum, Wednesday to Saturday at 12pm, 1pm and 2pm.