Lowry at Home: Salford 1966 – Unseen photographs by Clive Arrowsmith at The Lowry
Sara Jaspan, Exhibitions Editor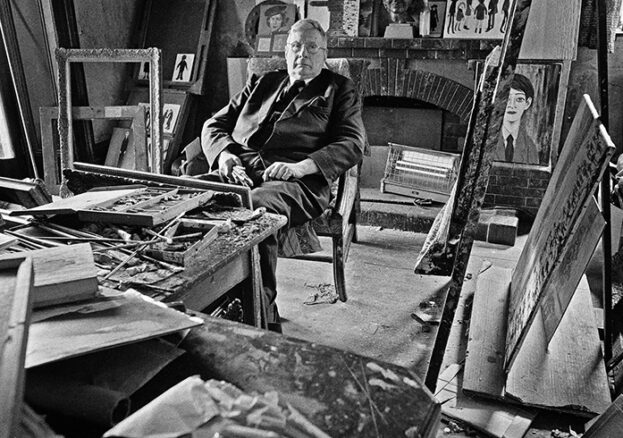 What can we tell of a man from his kitchen sink or old-fashioned cooker? A great deal it would seem judging by a new exhibition of rare, previously unseen photographs at The Lowry, which provides an intimate glimpse into the life of one of the nation's most loved, but deeply private artists. The images were all taken over the course of one weekend in 1966 by the now world-renowned photographer, Clive Arrowsmith, on what was one of his first photoshoots. They were commissioned to accompany an article on LS Lowry in the radical women's magazine, Nova. Only a small selection was ever published however; the rest remaining stored away in Arrowsmith's attic until last year, when his daughter Eugenie rediscovered them.
Arriving at the artist's house, The Elms in Mottram-in-Longdendale (Tameside, Manchester), the young photographer began his assignment rather boldly; catching Lowry off-guard by taking his first shot as he opened the front door. Despite the initial reaction this must have caused, Arrowsmith was clearly forgiven and managed to regain his subject's trust. The rest of the three-films-worth of images show the typically-reserved older gentleman looking unusually relaxed in front of the camera; at ease within his semi-dilapidated Victorian home, neighbouring streets and at Salford Art Gallery & Museum with several of his paintings.
Arrowsmith recalls his visit to The Elms as "a photographic feast," and the pictures he took reflect this. Some of the most captivating portraits within the exhibition are those in which Lowry doesn't feature at all. Arrowsmith instead focusing on a series of quiet domestic details: a line of empty milk bottles, a window-view of the artist's desolate back garden, the many clocks and old-fashioned ornaments he inherited from his mother, and a collection of identical overcoats and signature black hats hanging in the hallway. The feeling is of a simple, solitary life guided by finely-tuned routines and steadfast habits. It echoes of another time.
Outside the house, Lowry seems to slip remarkably into one of the figures from his paintings; blending-in against the iconic industrial landscape he grew up in, and later became known for. The second part of Arrowsmith's Nova commission, however, was to capture Salford's growing ethnic diversity and changing appearance as the area was swept by a wave of urban-regeneration and slum-clearance. The inclusion of these additional photographs within the exhibition prompts us to meditate upon Lowry's experience as an older man living through a period of intense modernisation. Indeed, he didn't even install a telephone in his home until 1968, and only then after a minor break in.
Overall, Lowry at Home offers a unique view of the artist's later life and enigmatic character. But it also provides a fascinating snapshot of Arrowsmith's emergent practice as a photographer, as he transitioned away from a background in painting. Today he is best known for his striking fashion and portrait images; having worked for British and French Vogue, Harper's, The Sunday Times Magazine and Vanity Fair; and with sitters including Mick Jagger, David Bowie, Yves Saint Laurent and Damien Hurst. As such, the exhibition is a two-fold experience that provides fascinating insights into both artists' worlds; one at the start of his career, the other at its peak. It's also a remarkable portrait of Salford itself, which is not to be missed.