Lars Iyer book launch at Blackwell's
Sarah-Clare Conlon, Literature Editor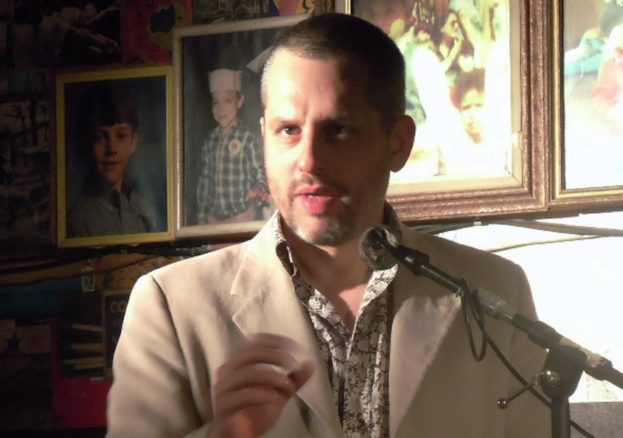 Novelist and philosopher Lars Iyer's latest book, My Weil, is set in Manchester and is described as "scathingly funny". At his book's Manchester launch at Blackwell's Bookshop, Lars will be in conversation with Dr Keith Crome, Principal Lecturer in Philosophy at Manchester Metropolitan University. Books will be available to purchase on the night and Lars will be signing copies after the talk.
London-born Lars Iyer has a degree and PhD in Philosophy from Manchester Metropolitan University, and is a Professor of Creative Writing at Newcastle University, where he previously also taught philosophy for many years.
Lars Iyer has published five previous novels, including 2019's Nietzsche and the Burbs, 2014's widely acclaimed Wittgenstein Jr. and a trilogy of short novels: Spurious (2011), Dogma (2012) and Exodus (2013). They have been translated into several languages and long- and short-listed for various awards, including the Goldsmiths Prize.
His work reflects his interests in Continental European thought, are fundamentally comic in style and vision, and, by their formal experimentalism and subject matter, are rooted in European traditions of literature, and have been linked by reviewers to Beckett and Bernhard. He has also written two books about French writer, philosopher and literary theorist Maurice Blanchot and he's published "a literary manifesto after the end of Literature and Manifestos" in The White Review. He has published widely on aesthetics, with special emphasis on the philosophy of literature, and has a particular interest in the philosophy of music.
About My Weil: "My Weil follows a group of twenty-something PhD students of the new-fangled subject Disaster Studies at an inferior university in Manchester, the post-industrial city of so much great music and culture. They're working class, by turns underconfident and grandiose (especially when they drink) and are reconciled to never finishing their dissertations or finding academic jobs. And they're working together on a film, through which they're trying to make sense of their lives in Manchester and, in particular, to the Ees, a mysterious patch of countryside that appears to have supernatural qualities. Into their midst arrives Simone Weil, a PhD student, a version of the twentieth century philosopher, who becomes the unlikely star of their film. Simone is devout, ascetic, intensely serious, and busy with risky charity work with the homeless. Valentine, hustler-philosopher, recognises Simone as a fellow would-be saint. But Gita, Indian posh-girl, is suspicious: what's with Simone's nun-shoes? And Marcie, the leader of the pack, is too busy with her current infatuation, nicknamed Ultimate Destruction Girl, to notice. The narrator, Donny, who was brought up in care and is psychologically fragile, and deeply disturbed by the poverty of his adopted city, gradually falls in love with Simone. But will his love be requited? Will Simone be able to save the souls of her new friends and Manchester itself from apocalypse?"
Doors: 18.30, event starts: 18.45. Tickets are £3 or free when pre-ordering a copy of the book from Blackwell's.
See Blackwell's events in September here.