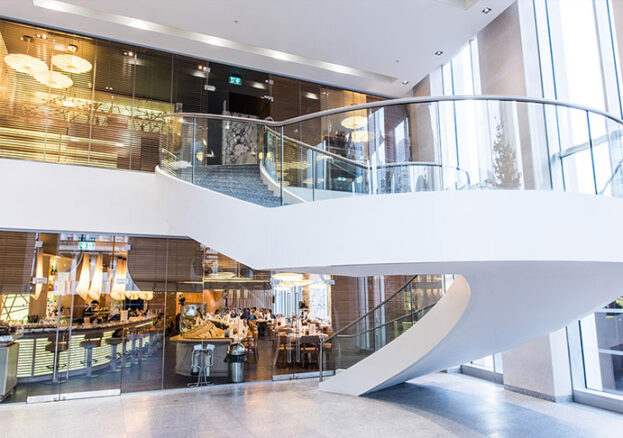 "Grazie!" "Prego!" An alarming number of waiters are bustling around us at San Carlo Fumo, saying things in Italian and smiling a lot. There is much amusement about our table, which looked plenty big enough when the two of us sat down, but now looks a lot smaller. Fitting our dishes on as they arrive becomes like a big game of Tetris. We didn't go crazy or anything – Fumo is geared toward cicchetti, the Italian version of tapas, so we ordered three dishes each, with extra bits like bread and salad. But everything we order, we like. So clearly, we were right to order so much.
You have to admit that coming to a place like this feels like an event
Fumo is the flagship restaurant anchoring that rather imposing new addition to the Manchester skyline, One St. Peter's Square. Owners The San Carlo Group, which have five likeable, upscale-ish restaurants in the city and loads more around the country, aren't known for restraint. The dining room is spectacularly over the top, with a long curved art deco bar, blowsy lighting shaped like seashells and jellyfish, and an eyebrow-raising yellow and beige colour scheme. Something about it makes me imagine I'm on a cruise ship. Subtle it ain't, but you have to admit that coming to a place like this feels like an event, even on a grey November afternoon. The décor would certainly wake you up at breakfast time. In an unusual move for city restaurants the kitchen will stay open straight through to 11pm.
A big glass of Negroamaro gets things off to a pleasant start for me, and my friend is happy with the selection of less commonly seen birras. We're urged to try the fresh mozzarella plait, made just that morning. We do. It's good. Creamy and tart, with the right softness about it. A piadina flatbread with a blistered crust, filled with sagey sausage and rapini, has to be one of the better sausage sandwiches in town. Roasted aubergine smeared with pesto is smokily addictive. A crackle-skinned slab of pork belly is served with a tasty little side of potatoes and a pot of gravy to pour over. Better still are Sicilian arancini (fried risotto balls): chewy outside, cheesy inside, with a spicy tomato sauce for dipping. Honestly couldn't fault one bit of it.
It would be hard to mess up affogato – it's just espresso and ice cream – but I'm sure it could be done. Fortunately, Fumo's version is delightful. A dessert sampler featuring bits of some of their cakes was less memorable, with only the tiramisu sticking out in my mind as something I might order on its own when I come back. And I'm sure I'll be back here. No, there's nothing new or startling about Fumo, but at a time when the catering industry seems obsessed with exhausting concept restaurants, there's something so restful about San Carlo's tried and true formula. Grazie indeed.