Julia & Axel: Thirty Years of Favourite Stories at The Lowry
Shekina Rose, Families Editor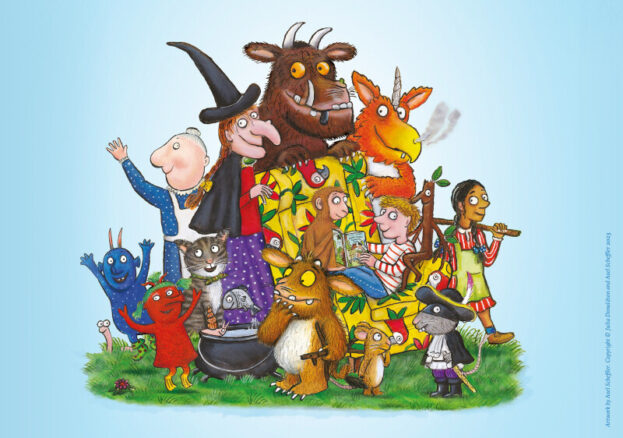 This summer and into autumn families are invited to step inside a world of imagination, rhyme, rhythm and delight at the Julia & Axel: Thirty Years of Favourite Stories exhibition at The Lowry, open from 22 July 2023 to 1 January 2024.
Enjoy a free, family-friendly exhibition taking you on a remarkable journey into the books and mind of author Julia Donaldson, and illustrator, Axel Scheffler, creators of some of the world's best-loved, and best-selling children's books, including The Gruffalo, Zog, Room on the Broom, Stickman, The Smeds and the Smoos and The Baddies.
Sift through Julia's personal writing notebooks which contain the very first ideas and creative thinking behind her picture book stories. These will be displayed next to Axel Scheffler's artwork, highlighting the incredible process of his illustrations, from drafts and sketches, to full page final colour illustrations that you might recognise from the finished books.
Children (and grownups!) will also have the chance to get creative. Throughout the exhibition there will be lots of fun opportunities inspired by the books themselves: story writing, picture drawing, dress up, and playing.
Julia Donaldson says: "I am delighted that we are working in partnership with The Lowry on this exhibition and that they are celebrating 30 years of Axel and me working together. It is exciting to be able to share some 'behind the scenes' secrets with our young readers and to show what happens before a finished book is in their hands. I hope that it will help them to feel creative and to start writing and illustrating their own stories, so that we have new picture-book creators in the future."
Axel Scheffler says: "I find it hard to believe that it is 30 years since Julia Donaldson and I did our first picture book together with A Squash and a Squeeze. So much has happened since then and many children have now enjoyed our stories over the years. I am very pleased that The Lowry is hosting this special celebratory exhibition and that it will give families the chance to discover more about my illustrations and Julia's writing."
This exhibition is presented by The Lowry in collaboration with publishers Macmillan Children's Books and Scholastic.
Artwork by Axel Scheffler. Copyright © Julia Donaldson and Axel Scheffler 2023