Board Games at Book Club
Carmel Smickersgill, Tours & Activities Editor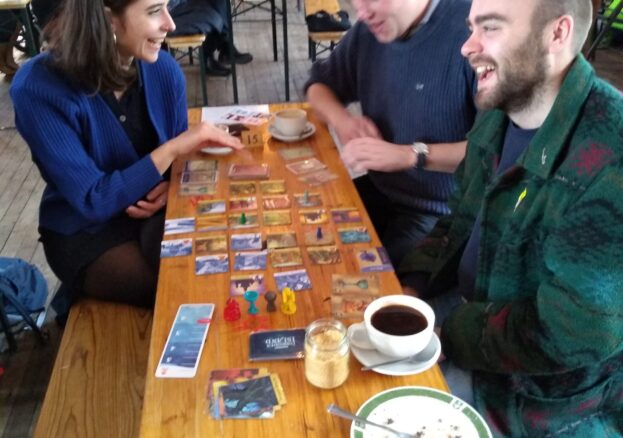 Hyde Park Book Club has known many incarnations. The space started as a garage, which became a fancy dress shop, which became the now immensely popular bar, kitchen and gig venue. You can still see traces of the building's past in the layout of the space, but it works so incredibly well for socialising that these features only add to the charm. Join them over winter as they host a series of board game afternoons.
Board game cafes are slowly being introduced to mainstream cafe culture in the UK, thanks to passionate individuals. It's opening our eyes to the sheer quantity and quality of games out there. Whether you're no stranger to a campaign of Scythe or you've only vague memories of playing monopoly as a kid, be ready to dive into a world of cards, quests and trading.
on hand on the day to teach new games and make expert recommendations
The afternoons are run by Cards or Die, a Leeds based team of board game enthusiasts that take pride in helping people come together and have fun with table top games. They'll be on hand on the day to teach new games and make expert recommendations of what games suit your interests and group size best. It means you can turn up not knowing what to expect, apart from a good time.
In a world where we often gravitate towards socialising with screens or booze, board games are an excellent alternative that give you something more accessible and fun to share with friends. You'll find the friendships built over the games table happen easily and quickly and you can always tell who the most competitive person in the group is. Having said that board games can be a non-alcoholic activity, the selection of local and classic favourite beers at the Book Club make a great accompaniment to a chilled out Sunday afternoon of gaming.