Headingley Enterprise and Arts Centre
Alice Hiley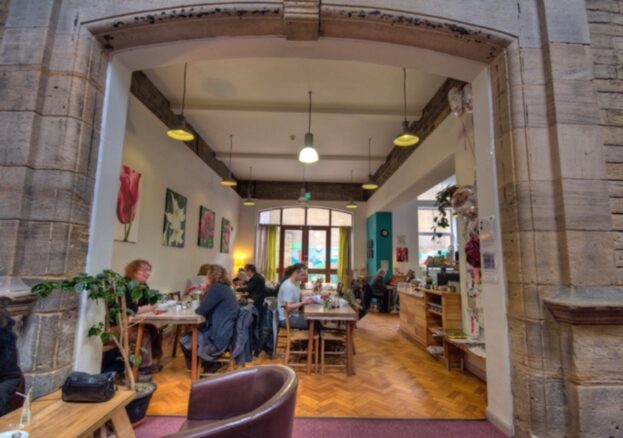 At the heart of Leeds' leafy suburb, the Headingley Enterprise and Arts Centre (commonly abbreviated as HEART) offers a varied programme of music, films, performance, literature and talks.
HEART is a community venture set up by the Headingley Development Trust in 2011, occupying the former Headingley Primary School on Bennett Road. HEART's vision is to create a vibrant and welcoming space for a wide range of people to meet, mix, work and play.
Headingley Enterprise and Arts Centre offers rooms for hire, allowing businesses to host meetings and private functions; areas to host live music events, yoga classes and art workshops; plus the shared workspace Pulse which is ideal for new start-ups who don't want to be pinned down to an office.
The centre has numerous exhibition spaces for local artists to showcase their work, the programme of artwork changing regularly. Headingley Enterprise and Arts Centre hosts the yearly Headingley Lit Fest, welcoming poets and authors for talks and workshops, as well as Films at HEART, a not-for-profit cinema group which screens contemporary independent films from around the world.
HEART Centre is also the home of Assembly Bar + Kitchen, a relaxed and friendly café and bar serving a fantastic range of food and drink, including all-day breakfasts, main meals, sandwiches and a variety of vegan and vegetarian options. You can pick up books or a board game to pass the time while you sit in the café's cosy indoor space, or in its outdoor Courtyard.
Next door to Assembly Bar + Kitchen is The Green Yard, an independent plant shop selling perennials, herbs, flowering plants and compost.
Developed and led by local people, and taking on board the community's ideas for development and growth, HEART Centre offers a lively programme of entertainment, and is a space for the whole of Headingley to meet and connect.