As the next instalment of live art festival Emergency returns to Manchester, Oly Bliss speaks to its organiser, Tamsin Drury.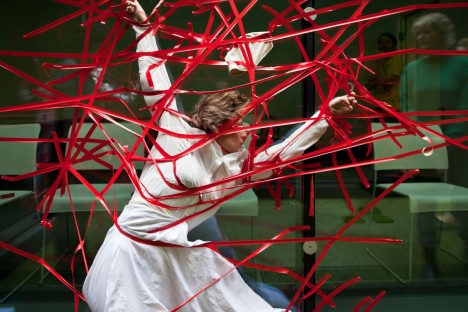 Tamsin Drury is the powerhouse behind much of the live art and experimental theatre witnessed in Manchester over the past two decades. She's been at the helm of live art agency, hÅb, since 1996, and was instrumental in establishing Manchester's greenroom as one of the UK's leading centres of live art. This week, Drury and co. are back with the 13th installment of Emergency, which takes over three venues with a day and night of energetic live work. Last year's line-up featured electric graffiti, turning the audience into life models, and a mass pirate charge down a city centre street – and we can expect a similarly eclectic line-up of live art this time round.
Oly Bliss speaks to Tamsin to find out more about Emergency, how hÅb has filled the live art gap since the Arts Council pulled the plug on greenroom back in 2011, and just what we can expect this coming weekend.
Oly Bliss: How would you describe live art to someone new to the scene?
Tamsin Drury: Live art is a tricky term to use, but as an art form it aims to be striking, moving, enjoyable stuff that is for everybody. It's about being involved in a live experience. It can be anything, something that makes you laugh through to a piece that changes your perspective entirely. We work with performers rather than actors performing other people's scripts. Usually, people tell stories in a unique way. It can be a text-based piece, stand up, acting, or an intervention. Work isn't always seated, either. It can be in the most unusual locations and directly involve people.
OB: What does hÅb do?
TD: hÅb is essentially made up of three main strands: Emergency, Hazard and Turn. hÅb represents new artists as well as artists who are nationally and internationally recognised.  We help shape the work that comes in; I'm passionate about maintaining high quality work for Manchester. We develop talent; support them with branding and finding places to showcase their work. We're not the be all and end all; we're a small organisation working with more established venues in the city. There are lots of other small initiatives around and we try to bring them all together.
OB: What work do you look for?
TD: I'm looking for really good ideas, something that excites and you can connect with. An artist that can move you, who can bring a unique perspective, is really enjoyable.
OB: Your next big event is the Manchester Weekender, what's happening?
TD: Action Hero versus Go Project is on Friday 12 October, which we've co-commissioned and brought into the city to provide a benchmark of exceptional work. The work is a clash between a stand-up electronica music gig and theatre performance. Action Hero is being held at Gorilla which is a real emotional return to what was previously the greenroom. On the Saturday, there will be daytime performances at BLANKSPACE, and Castlefield Gallery, with evening performances at Z-Arts. There are 40 performances being showcased over the entire event.
OB: Any favourites?
TD: My tip – be at BLANKSPACE at Midday on Saturday for a very special opening. But I don't want to cherry pick, as people should be able to navigate around an exhibition of live work that has lots of surprises. You'll enter a series of different spaces and gain your own immersive encounters. Some pieces will be one on-one or in small groups, others are durational over the course of the day. It's a very open and welcoming day and we aim to have something enjoyable for everyone, whether it's recreating iconic communist imagery through the medium of yoga or a bear shaving. The evening performances at Z-Arts are funny, beautiful and moving pieces ranging from song, performance and multimedia to stand-up.
OB: What impact do you think the Tate Modern's new Tanks space will have on live art?
TD: Any major institute embracing the form is really good because it raises the general profile of live art. The trick for them will be to recognise what's happening elsewhere. Live art and contemporary performance is elusive by nature and one size never fits all. I hope they acknowledge the history without trying to pigeonhole artists into a singular set form.
Emergency, BLANKSPACE, Castlefield Gallery & Z-arts, Midday-5pm BLANKSPACE & Castlefield Gallery, 6pm-10pm Z-Arts, Saturday 13 October 2012, free. Part of the Manchester Weekender. Read more about The Tanks in our review by Eliza Tyrell, or for more urban events during the Weekender try our three-day guide to the weekend.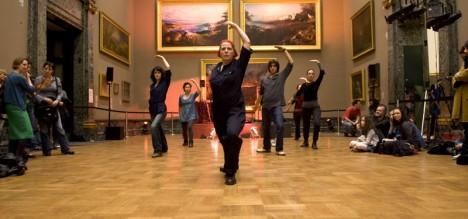 Images (top to bottom): MKITA, Clarissa Sacchelli, photo by Monika Kita; PK Fiskulturnik, yugo yoga; both part of Emergency 2011.