Wakefield Museum
Polly Checkland Harding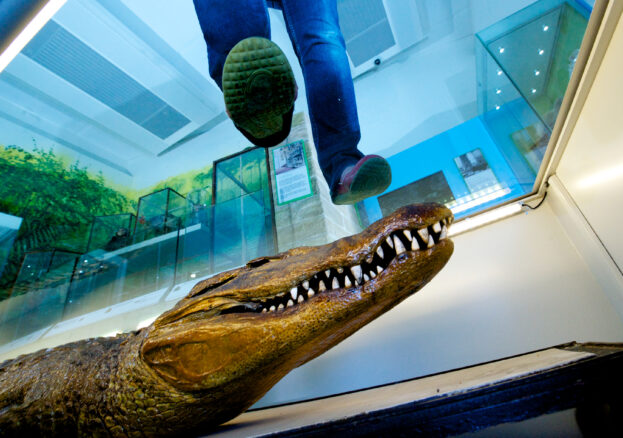 The Wakefield Museum, located on the ground floor of the Wakefield One building in the city centre, is home to both local treasures and myriad stories of people's lives through history. The main galleries showcase the history of Wakefield: here, you can better understand what life was like in the city's jail for 19th-century prisoners, discover the area's long rugby heritage, listen to the strange sound that forced rhubarb makes while growing and witness the hardships of war through the ages. In the museum's Front Room, a Victorian kitchen and 1940s living room installation complete with a dressing-up box for children allow visitors to step into the past, and wear costumes inspired by the clothing on display elsewhere in the museum.
Wakefield Museum also celebrates Wakefield-born naturalist and explorer Charles Waterton – a pioneering conservationist who had a lifelong obsession with wildlife. Waterton travelled to Guyana in South America in 1812, and came across toucans, vampire bats and sloths on his trip. The Extraordinary World of Charles Waterton features several of the specimens he brought back and preserved for his museum, including exotic birds, monkeys and an anteater, as well as the bizarre composite 'creations' that Waterton fashioned from assorted animals. These odd assemblages, like a porcupine in a tortoiseshell, were given satirical titles such as 'John Bull and The National Debt'; here, the common personification of the UK is so weighed down by the £800m national debt that he is overcome by six devils.
After Waterton returned to Walton Hall in Wakefield (now a hotel and spa), he dedicated his life to observing and protecting the natural habitat, building a stone wall over three miles long around the estate and creating what's thought to be the world's first nature reserve. Waterton developed artificial nest boxes (another first), and bought a telescope to better watch the wild birds on the land. At the Wakefield Museum, his findings and legacy are creatively displayed; the caiman crocodile he famously captured is set into the floor, daring visitors to stand on its back. Close to Wakefield Westgate station, and in the same building as Create Café, the museum also houses a Special Exhibitions Gallery with a varied programme of displays inspired by the museum's collections and supplemented by loans.